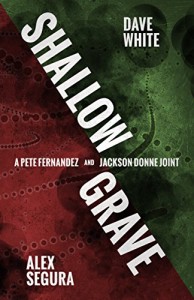 Alex Segura & Dave White
Shallow Grave: A Pete Fernandez & Jackson Donne Joint
(Polis Books, May 2017)
Five years ago, Gilbert "GG" Garcia – bassist for beloved New Brunswick, NJ indie band Magna Carta – went off the grid. At the request of GG's sister, P.i. Jackson Donne made some inquiries but hit a wall. Aside from allegations of mob involvement and illegal betting, the leads had dried up and GG was in the wind. Soon enough, the case went cold and Donne moved on.
Five years later, Miami P.I. Pete Fernandez gets a frantic call from an old friend – a police detective stationed in his old stomping grounds of New Jersey – asking for a favor he can't discuss over the phone. Bruised and battered from a near-fatal run-in with a lethal serial killer, Pete welcomes the brief change of scenery. Or escape. Pete discovers the GG case has frozen solid, with only one flicker of hope for solving it: talking to the first detective who tried to find the local-boy-gone-missing. But there's one problem: Jackson Donne is in prison for murder.
Pulled into an uneasy alliance with the older, jaded detective, Pete must pick up the pieces of Donne's work to learn the missing bassist's final fate, while also avoiding an unexpected mob turf war and locals who prefer the past stay buried.
SHALLOW GRAVE pairs two of the best crime writers working today, Dave White and Alex Segura, pairing up their acclaimed characters in an unforgettable tale of lost hopes, dangerous alliances and sinister betrayals.

The Pete Fernandez Mysteries
More with Pete Fernandez
Read more about the crossover story Shallow Grave at Criminal Element
Alex Segura is a novelist and comic book writer. He is the author of the Miami crime novels Silent City and Down The Darkest Street, featuring newsman-turned-P.I. Pete Fernandez. He has also written a number of comic books, including the bestselling and critically acclaimed Archie Meets Kiss storyline, the "Occupy Riverdale" story, and the upcoming Archie Meets Ramones. He lives in New York with his wife. He is a Miami native. Follow him at @alex_segura.
Dave White is the Derringer Award–winning author of six novels: When One Man Dies, The Evil That Men Do, Not Even Past, An Empty Hell and Blind to Sin in his Jackson Donne series, and the acclaimed thriller Witness to Death. His short story "Closure," won the Derringer Award for Best Short Mystery Story. Publishers Weekly gave the first two novels in his Jackson Donne series starred reviews, calling When One Man Dies an "engrossing, evocative debut novel" and writing that The Evil That Men Do "fulfills the promise of his debut."
He received praise from crime fiction luminaries such as bestselling, Edgar Award–winning Laura Lippman and the legendary James Crumley. His standalone thriller, Witness to Death, was an ebook bestseller upon release and named one of the Best Books of the Year by the Milwaukee Journal-Sentinel. He lives in Nutley, NJ. Follow him at @dave_white. He lives in Nutley, NJ.