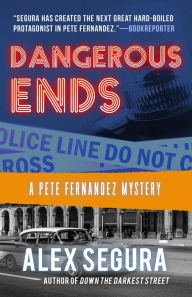 Alex Segura
Dangerous Ends: A Pete Fernandez Mystery
(Polis Books, April 2017)
A May 2017 Bestseller at Murder at the Beach, Miami, FL
Pete Fernandez has settled into an easy, if somewhat boring life as a P.I.. He takes pictures of cheating husbands. He tracks criminals who've skipped bail and he attends weekly AA meetings The days of chasing murderous killers are behind him. Or are they?
When his sometimes partner Kathy Bentley approaches him with a potential new client, Pete balks. Not because he doesn't need the money, but because the case involves Gaspar Varela, a former Miami police officer serving a life sentence for the murder of his wife – one of the most infamous crimes in Miami history. The client? None other than Varela's daughter, Maya, who's doggedly supported her father's claims of innocence.
As Pete and Kathy wade into a case that no one wants, they also find themselves in the crosshairs of Los Enfermos, a bloodthirsty gang of pro-Castro killers and drug dealers looking to wipe Pete off the Miami map. As if trying to exonerate Varela wasn't enough, they find themselves entangled in something even older and more surprising—a bloody, political hit ordered by Fidel Castro himself, that left a still-healing scar on Pete—and his dead father's—past.
Fast-paced, hardboiled and surprising, Dangerous Ends pushes Pete Fernandez into a battle with a deadlier, more complex threat, as he tries to shake off the demons haunting Miami's own, sordid past.
The Pete Fernandez Mysteries
More with Pete Fernandez
Praise for Dangerous Ends
"Alex Segura's latest novel, Dangerous Ends, opens in 1959 Cuba with someone refusing a deal from Che Guevara. That act of dissent sets off a series of violent, terrifying events. Segura is no stranger to a high-stakes story — the previous book of his Pete Fernandez series found the private investigator chasing a serial killer. Nonetheless, there's something particularly urgent about this new investigation, which weaves Cuba-Miami politics with gang-related power grabs and law enforcement corruption. It's a confirmation that noir hasn't run out of tricks and just might be the ideal vehicle to explore our current moment."
―Los Angeles Review of Books
"A gripping Miami thriller…Segura guides "Dangerous Ends" with surprising, and believable, twists, putting his work firmly among the best of South Florida crime fiction."
―Oline Cogdill, Sun Sentinel
"A rich seam of noir-dark mystery that intertwines intriguingly with Fernandez's own family story. Segura keeps the sultry atmosphere of Hernandez's love-life strifes turned way up, matched perfectly by southern Florida's palpable heat and humidity."
―Daneet Steffens, The Seattle Review of Books
"Segura has seamlessly blended three different plots into one kick-ass book that has Segura's writing talents on full display. The plot lines intertwine and diverge with a poet's touch and each plotline could make its own sharp novella…[DANGEROUS ENDS] is a great addition to this series and showcases Segura's expert plotting, great character development, and great sense of atmospheric writing."
―Out of the Gutter
"DANGEROUS ENDS is real throwback to the kind of books I love. Segura captures the spirit of modern Miami with its complicated past and conflicted present. Pete Fernandez is the perfect hero to walk the mean streets of both worlds."
―Ace Atkins, New York Times bestselling author of Robert B. Parker's Slow Burn and The Innocents
"Alex Segura honors the private detective tradition, but also expands it. With a rich setting and an engagingly complex main character, DANGEROUS ENDS is a tense, gripping exploration of what happens when a bloody past collides with a dangerous present."
―Lou Berney, Edgar Award-winning author of The Long and Faraway Gone
"Alex Segura is one of the most exciting and vital voices in crime fiction today, and his Pete Fernandez series is keeping private eye fiction alive and kicking (serious ass) in the new millennium. His work does what the best crime fiction should do: take us down city streets we wouldn't dare visit alone."
―Duane Swierczynski, Edgar Award-nominated author of Canary
"Like Elmore Leonard before him, Segura drags the darkness out into the hot sunlight. There's a lot of heart in these broken souls."
―Brian Azzarello, author of 100 Bullets, Moonshine and Batman
"Dangerous Ends is his best work to date…the twists and revelations continue till nearly the final page. Segura's ability to evoke a Miami beyond the usual famous and colorful spots remains impressive, and in this book, he adds something extra, tying the mystery plot to Pete's past and to his family's past in pre-Castro Cuba. Past and present intersect as Pete gets deeper and deeper into a case way out of his professional comfort zone. He investigates crimes that were set in motion by events that happened decades ago, in Havana. Segura has said that he drew upon stories connected to his own family's history, and perhaps it's that dip into personal material that adds a subtle emotional layering to the book…I zipped through Dangerous Ends as I zipped through Pete books 1 and 2. I look forward to Pete number 4."
―Scott Adlerberg, Do Some Damage
"Readers looking for a favorite new crime writer can't go wrong with Alex Segura. With bold, crisp writing and flawless plotting, his is a name to remember."
–Jathan & Heather
"Dangerous Ends is a well-constructed novel and its foundation is solid. Segura successfully ties together the diverse threads of the story, bringing a complex plot to a satisfying resolution."
– Natalie Havlina, The Florida Book Review
Praise for the Pete Fernandez Mystery Series
"Classic PI fiction in the best sense."
—Laura Lippman
"Squalid, sun-drenched noir at its best."
—Kelly Braffet
"Pitch perfect in the key of hard-boiled."
—Reed Farrel Coleman
"A noir page turner… Segura is a writer to watch."
—Sara Gran
"Tense and taut. A series not to be missed."
—Megan Abbott
"Cool, compelling and completely believable."
—Hank Phillippi Ryan
Read an interview with Alex Segura on Huffington Post
Read the BookReporter review of DANGEROUS ENDS
Read Publisher Weekly's profile of Alex Segura
Read MTV's profile of Alex Segura
Read a conversation between Alex Segura and Thomas Pluck on Criminal Element
Read a conversation between Alex Segura and Steph Post on LitHub
Read the Out of the Gutter review of DANGEROUS ENDS
Listen to Alex Segura's DANGEROUS ENDS playlist and read his notes on Largehearted Boy
Read the Bewitched Bookworms review of DANGEROUS ENDS
Read the Sara the Introvert review of DANGEROUS ENDS
Read the Do Some Damage review of DANGEROUS ENDS
Read the Unlawful Acts review of DANGEROUS ENDS
Read the Los Angeles Review of Books interview with Alex Segura
Read The Seattle Review of Books review of DANGEROUS ENDS
Read the Sun Sentinel review of DANGEROUS ENDS
Read the Jathan & Heather review of DANGEROUS ENDS
Read the No More Grumpy Bookseller review of DANGEROUS ENDS
Read The Florida Book Review review of DANGEROUS ENDS
Alex Segura is a novelist and comic book writer. He is the author of the Miami crime novels Silent City and Down The Darkest Street, featuring newsman-turned-P.I. Pete Fernandez. He has also written a number of comic books, including the best-selling and critically acclaimed Archie Meets Kiss storyline, the "Occupy Riverdale" story and the upcoming Archie Meets Ramones. He lives in New York with his wife. He is a Miami native. Follow him at @alex_segura.