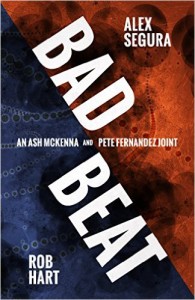 Alex Segura and Rob Hart
Bad Beat
(Polis Books, January 2016)
When beloved college football star Raleigh "The Gun" Davis is suspected of shaving points, sports reporter Pete Fernandez is tasked with digging up all the dirt that's fit to print. Mired in his own mounting personal problems and drinking himself blind, Pete slams into an unexpected brick wall: Ash McKenna, an amateur private investigator with a very bad attitude. Both are looking for the AWOL QB, but their goals run counter to each other—Ash is trying to help an old friend, while Pete is looking to redeem his once-promising journalism career.
What they find is more than they bargained for—and more than they can handle alone. Can the unlikely duo find common ground in time to bust a dangerous crime ring? Or will they get tangled up in their own egos and agendas?
Acclaimed crime writers Rob Hart and Alex Segura pair up for a unique adventure that brings together their series characters Ash McKenna and Pete Fernandez for an untold tale of vice, double-crosses and the back alleys of suburban New Jersey. Before New Yorked and Silent City, there was Bad Beat.
More with Pete Fernandez
Praise for Bad Beat
"Two authors at the top of their games creating a world that is intriguing and memorable. The two characters have engaging dialogue and the pacing of the novella is sharp…Pick up this offering ASAP because I guarantee you will want to pick up the initial book to each of these series before you dive into the soon to be released sequels. ​Highly Recommended."
—Derrick Horodyski, Out of the Gutter
Read the Out of the Gutter review of Bad Beat
Read The Guardian profile of Alex Segura​
Alex Segura is a novelist, editor, and comic book writer. He is the author of the Miami noir novel Silent City, which is the first of a series featuring protagonist Pete Fernandez. Alex has also written the best-selling and critically acclaimed Archie Meets KISS comic series and graphic novel, among others. He is the editor of the Dark Circle line of comic books. Alex performs regularly in New York as part of the indie rock group Faulkner Detectives. He lives in New York with his wife and two cats. He is a Miami native.