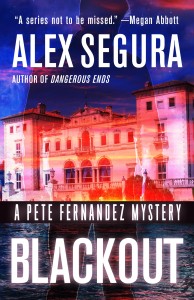 Alex Segura
Blackout: A Pete Fernandez Mystery
(Polis Books, May 2018)
One of Literary Hub's "Most Anticipated Crime, Mystery, and Thriller Titles of 2018"
One of MysteryPeople's "Most Anticipated Books of 2018 (and 2019, too!)
With BLACKOUT, the new novel in Alex Segura's acclaimed Pete Fernandez Mystery series, new evidence in a cold case that's haunted Pete throughout his life drags him back to his hometown of Miami. But as Pete and his partner Kathy Bentley delve deeper into the unsolved murder, they become entangled in Miami's obsession with a charismatic and dangerous cult leader and his even more menacing followers, and find themselves at odds with a Florida politician's fixation on wealth, fame and power. It all converges in the heart of the city and Pete is left scrambling to pick up the pieces.
The Pete Fernandez series have always run on two tracks – the over-arching mystery that Pete and his friends have to scramble to solve, and the other following Pete's journey of recovery from self-destructive alcoholic to somewhat functional private eye. In BLACKOUT, those two tracks blend into one dark, personal and deadly tale of dangerous fixation that will leave Pete Fernandez completely changed. It's all been building to this.
Praise for the Pete Fernandez Mystery Series
"Classic PI fiction in the best sense."
—Laura Lippman
"Squalid, sun-drenched noir at its best."
—Kelly Braffet
"Pitch perfect in the key of hard-boiled."
—Reed Farrel Coleman
"A noir page turner… Segura is a writer to watch."
—Sara Gran
"Tense and taut. A series not to be missed."
—Megan Abbott
"Cool, compelling and completely believable."
—Hank Phillippi Ryan
"The fourth book in Alex Segura's series, this is not one to be missed by a master of the detective genre.​"
–Matthew Turbeville, MysteryPeople by BookPeople
Alex Segura is a novelist and comic book writer. He is the author of the Miami crime novels Silent City, Down The Darkest Street, and Dangerous Ends, featuring newsman-turned-P.I. Pete Fernandez. He has also written a number of comic books, including the best-selling and critically acclaimed Archie Meets Kiss storyline, the "Occupy Riverdale" story and the upcoming Archie Meets Ramones. He lives in New York with his wife. He is a Miami native. Follow him at @alex_segura.