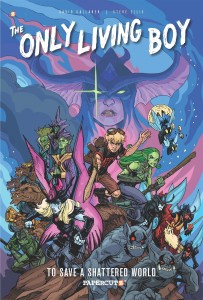 David Gallaher and Steve Ellis
THE ONLY LIVING BOY Vol. 5: To Save a Shattered World
(Papercutz, October 2017)
Nominated for 4 Harvey Awards, including Best Graphic Novel for Younger Readers!
Desperate to stop the Dreaded Lord Baalikar from stealing the transformative powers of the Chrysalis, young Erik Farrell assembles the endangered tribes of his new homeworld to liberate the Hive City. Enemies become allies as Morgan and Phaedrus stage a dangerous rescue, while Princess Thea makes a decision that will forever alter the fate of the Patchwork Planet. David Gallaher and Steve Ellis bring their best-selling series to a dramatic close in this startling finale of The Only Living Boy.

The Only Living Boy Series
Praise for THE ONLY LIVING BOY series
"An all-ages adventure book inspired by pulp serials, Saturday morning cartoons, Jack Kirby, and even the music of Paul Simon."
—Mental Floss
"Gallaher's story presents a classic tale of fantasy exploration."
—Publishers Weekly
"THE ONLY LIVING BOY is ready to join the ranks of books like BONE and AMULET as one of the very best…. A great blend of fantasy and pulp elements that will appeal to fans of all ages."
—Blastr​
"The Only Living Boy is an adventure for anyone, of any age. There are some bizarre twists along the way, and some interesting questions posed for the reader who's looking for a few more layers in their reading. If you haven't given this title a shot, you might want to reconsider."
– The Pullbox
Papercutz and 'The Only Living Boy' Honors David Gallaher's Birthplace With Comic Con Honolulu Exclusive Variant
Read David Gallaher's essay "What Jack Kirby Taught Me About Being a Kid" on SYFYWIRE
Read The Pullbox's review of The Only Living Boy Vol. 5
Author David Gallaher has received multiple Harvey Award nominations and won The Best Online Comic Award for his work on High Moon for DC Comics. David was an early pioneer of digital comics developing projects for Marvel as well as BOX 13 – the first comic designed specifically for the iPhone – for comiXology. He has served as a consultant for Random House, The NYPD, and McGraw-Hill.
Steve Ellis has worn many hats as illustrator, author, art director and concept designer. He has created artwork and conceived projects for companies such as Wizards of the Coast, Random House, Marvel Comics, DC Comics, AMC, Scholastic, Rogue Entertainment, Blizzard Entertainment and more. Recently he has developed the award-winning comic series High Moon for DC Comics as well as acted as the lead designer, storyboard artist and illustrator on AMC's Breaking Bad and The Walking Dead games.