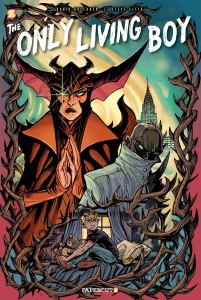 David Gallaher and Steve Ellis
THE ONLY LIVING BOY Vol. 3: Once Upon a Time
(Papercutz, October 2016)
Harvey Award Nominee, Best Original Graphic Publication for Young Readers
David Gallaher & Steve Ellis workshop and tour schedule
​Read the Comicosity review of The Only Living Boy #3​
​In the third collection of the hit webcomic The Only Living Boy, Erik Farrell finds himself at the mercy of the villainous Doctor Once. But, of course, Doctor Once has NO mercy! Surrounded by strange creatures and sinister experiments, Erik's very life hangs in the balance. Even if he finds the strength to escape the hideous laboratory, Erik won't be able to escape his tragic past, or his destiny. Gallaher and Ellis' daring adventure series about an ordinary boy on an extraordinary planet continues in Once Upon A Time—the newest book in the acclaimed Only Living Boy series.​

The Only Living Boy Series
Praise for The Only Living Boy
"The Only Living Boy is like watching your childhood's imagination being displayed on the page…A world full of interesting and magical creatures that rivals that of Harry Potter and Percy Jackson…I would urge anyone out there that knows a young, blooming comic fan to place this series in their hands."
—Comic Crusaders on volumes #1-4
"An all-ages adventure book inspired by pulp serials, Saturday morning cartoons, Jack Kirby, and even the music of Paul Simon."
—Mental Floss
"If your idea of dystopian fantasy starts with 'Hunger" and ends with 'Games," you need to discover THE ONLY LIVING BOY. David Gallaher and Steve Ellis have created a fantastic world in the literal and literary sense, and populated it with a menagerie of unforgettable characters."
—Ron Marz, Writer of Green Lantern and Silver Surfer
"An entrancing ballad of a little boy lost, an epic fantasy with an intimate focus. It conjures a fully-realized environment of mysterious ruins and gladiators and monsters that evokes 'Planet Hulk' and 'Planet Of The Apes' equally; a bountiful feast of imagination that's both science fiction and fairy tale."
—Depth of Field
"A hero with memory loss, scaly monsters, alien heroines, giant evil dragons, underground cities, secrets, this is adventuresome, fast-paced alternate reality action with engaging, layered characters and great, great drawing. Everything you could possibly want in a comic."
—Nick Abadzis, Writer of Laika
"Paul Pope and Jack Kirby never had a chance to work together, but if they had, it would be only slightly less awesome than this."
—Mark Waid, Writer of Daredevil, Kingdom Come, and Flash
"A modern masterpiece for all ages. I wish more comics were like this."
—Jimmy Palmiotti, Writer of Batwing, Futurama and Harley Quinn
"A kick-ass romp through a fantasy world that's dark enough to make you feel what it's like to be the only one of your kind left in the world, and fun enough to keep you checking back in next issue."
—Joe Harris, Writer of Great Pacific and X-Files, Season 10
"Ellis' full-color art looks like something right out of a classic fantasy comic… The episodic plot and quick-fire pace will appeal to reluctant readers hoping for a big payoff from a small package."
—BOOKLIST
"The Only Living Boy is ready to join the ranks of books like Bone and Amulet as one of the very best…. A great blend of fantasy and pulp elements that will appeal to fans of all ages."
—Blastr
​"Gallaher's fantastic story & exotic locales are filled with dangerous creatures but his characters are instantly relatable to young readers. They grapple with issues like intolerance, finding self confidence, and feeling like the odd person out. In his terrific essay on his time in the classroom, his passion as an educator really shines through."
—Alex Yarde, The Good Men Project​
"I've just finished the first volume of ​​The Only Living Boy and I can't believe what I've been missing!"
—​​Forces of Geek
​"Boy meets (alien) world in the excellent scifi adventure comic The Only Living Boy."
—​​io9​
​"Young readers may come for the insect princess and the dragon, but they will stay because they will see a character who struggles with the same uncertainties and anxieties they do.​"
—​​Jessica Greenlee, Fangirl Nation
"While reading writer David Gallaher and illustrator Steve Ellis' The Only Living Boy Vol I: Prisoner of the Patchwork Planet, memories of devouring compilations of Bill Watterson's Calvin & Hobbes washed over me. Maybe it's in part because Erik Farrell, the 12-year-old hero of OLB, bears a striking resemblance to an older Calvin, with his lanky form and shock of blonde hair. It could be in part because Erik, like Calvin, has a sense of adventure and wonder that draws the reader in…. Both Watterson and the creative team of Gallaher & Ellis have a phenomenal grasp of what it means to be a young person attempting to make sense of and finding a place in a world that is densely populated with bubbles of possibility."
—Freak Sugar
"This is a payoff installment for readers who have been aboard since the beginning. Gallaher and Ellis do a great job of buttoning up some questions in this third installment while opening up the possibilities for the next and future installments. I'm as stoked to continue reading this series as I was at the start, and, now that I have three books together, it seems like a great time to make one long read of it all.​"
—Comicosity
Author David Gallaher has received multiple Harvey Award nominations and won The Best Online Comic Award for his work on High Moon for DC Comics. David was an early pioneer of digital comics developing projects for Marvel as well as BOX 13 – the first comic designed specifically for the iPhone – for comiXology. He has served as a consultant for Random House, The NYPD, and McGraw-Hill.
Steve Ellis has worn many hats as illustrator, author, art director and concept designer. He has created artwork and conceived projects for companies such as Wizards of the Coast, Random House, Marvel Comics, DC Comics, AMC, Scholastic, Rogue Entertainment, Blizzard Entertainment and more. Recently he has developed the award winning comic series High Moon for DC Comics as well as acted as the lead designer, storyboard artist and illustrator on AMC's Breaking Bad and The Walking Dead games.