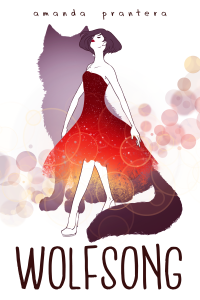 Amanda Prantera
Wolfsong
(US debut: Tapas Media, June 2017)
When nineteen-year-old Sarah receives an invitation to a society ball from a notorious aristocratic socialite, she assumes there must have been some mistake. What could Nico, the belle of swinging sixties London, want with Sarah, a trainee secretary with a chequered past? Yet Nico has sniffed Sarah out for a reason. Like Nico herself, Sarah is not-quite human – she is a wolf and a woman trapped in the same body. Bound together by their shared fate the two girls descend together into a dream-world of louche parties, country estates, Italian noblemen and increasingly animalistic instincts…But there are choices to be made. And when Nico disappears one freezing winter, Sarah is left to make the final decision on her own.
Praise for Wolfsong
​"Sincere, subversive, poetic, humane–such words and more come to mind when describing Amanda Prantera's unerringly beautiful WOLFSONG. A story that could have surrendered to its own conceit–of two women werewolves struggling to protect their identities in an ideologically primitive human world–instead becomes an exploration of nature, art, and the scope of mortal compassion. I can't recommend it enough."
— Samuel Sattin, author of The Silent End, Legend, and Adventure Quest
"I can think of no teller of gothic tales who betters her in the genre."
— The Times Literary Supplement (London)
​"It's one of those rare books that manage to take a topic that's usually dealt with on a lighter note, and turn it into a mature, literary masterpiece.​"
— Booking In Heels 
"​Amanda Prantera stunned me with her writing. I read Wolfsong in one sitting, gobbling it up like a favourite sweet. On one hand I wish there had been more, on the other I feel that it had one of the most perfect endings I've read in a long time. Just wonderful.​"​
— Beth Flynn, A Little Sunshy    
Read an excerpt from Wolfsong on Daily Dead
​Amanda Prantera was born and educated in East Anglia. Aged 19 she went for a week's holiday in Italy and has lived there ever since. Her works have been widely acclaimed and translated and include Capri File, Don Giovanna, Mohawk's Brood, and Sabine. In Wolfsong, she returns to her Gothic roots, but adds a new romantic dimension.