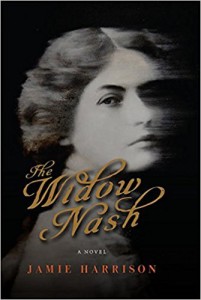 Jamie Harrison
The Widow Nash
(Counterpoint, Hardcover June 2017, Paperback May 2018)
A New York Times Book Review Editors' Choice
On Entertainment Weekly's MUST LIST
Selected by Nancy Pearl for her Summer Reading List on NPR's Morning Edition
A Publishers Weekly Pick of the Week
One of PureWow's "7 Books We Can't Wait to Read in June"
A PNBA Indie Bound Bestseller
Jamie Harrison Event Schedule
Chosen by Book Riot as one of the "100 Must-Read Indie Press Books"
Chosen by Newsday as one of the "Great books that deserved more buzz in 2017"
A masterful, rollicking novel about fathers and daughters and the search for the true meaning of independence
Dulcy Remfrey has traveled the globe with her eccentric father Walton, a wealthy entrepreneur obsessed with earthquakes and catastrophe, searching to cure his long battle with syphilis through any crackpot means necessary. Their deep connection is tested, however, when Walton returns from an African expedition without any of the proceeds from the sale of his gold mine. It seems he's lost his mind along with the great sum of money, his health declining rapidly. Dulcy's obsessive ex-fiancé (and her father's business partner) insists she come to Seattle to decipher her father's cryptic notebooks–a dozen in all, wrapped in brightly colored silk–which may hold clues to the missing funds. Yet when her father dies before they can locate the money, Dulcy falls under the suspicion of her ex-fiancé. Petrified of being forced to spend the rest of her life with him, Dulcy decides to disappear from the train bringing her father's body home.
Is it possible to disappear from your old life and create another? Is it possible to live truly free? Dulcy travels the West reading stories about her presumed death and settles into a small Montana town where she's reborn as Mrs. Nash, a wealthy young widow with no burden of family. But her old life won't let go so easily, and soon her ex-fiancé is on her trail, threatening the new life she is so eager to create.
The Widow Nash is a riveting narrative, filled with a colorful cast of characters, rich historical details, and epic set pieces. Europe in summer. New York in fall. Africa in winter. The lively, unforgettable townsfolk to Livingston, Montana. And in Dulcy, Jamie Harrison has created an indelible heroine sure to capture the hearts of readers everywhere.
Praise for The Widow Nash
"Sweeping and richly hued."
–The New York Times Book Review
"This gorgeously written historical novel follows Dulcy, a young woman in 1904 who attempts to flee her late father's business problems — and her violent ex-fiance's grasp — by traveling west and posing as a wealthy widow."
– Entertainment Weekly's The Must List
"With The Widow Nash, Jamie Harrison breathes fresh life into a fascinating period of American history. Indeed, the past has not passed. An adventurous, ambitious, inventive novel by a writer to relish."
—Colum McCann, winner of the National Book Award for Let The Great World Spin
"What keeps you reading is not just the quality of the writing, which is just absolutely wonderful, but also to find out: Is [Dulcy] she going to  [remake herself]? Can this be successful? Or is she going to be found out?"
– Nancy Pearl, Morning Edition, NPR
"When Walton dies before anyone can figure out what's happened to Victor's money, Dulcy decides that her only option is to disappear. Thus, Dulcy Remfrey turns herself into the young widow Mrs. Nash. This baroque setup is nicely balanced by Harrison's prose; the narrative voice here is restrained, with just a hint of quiet irony. And there's the fact that, as fantastical as the scenario might seem, Walton Remfrey is an entirely believable Gilded Age figure…Thoughtful, richly written historical fiction."
—Kirkus Reviews
"Richly descriptive, The Widow Nash is the luminous story of a woman suspended between two worlds, one promising, the other catastrophic."
―BookPage
"Harrison paints a lovely and memorable portrait of a desperate woman's flight to a new life . . . Harrison's lead is a strong and clever woman who is easy to admire, while the rest of the heroes, villains, and ambiguous sorts are as vividly drawn as the raw and terrible scenery of Montana. Readers will treasure Harrison's rich characterization and sharp turns of phrase."
—Publishers Weekly (starred and boxed review)
"The writing is incredible…I'm not even doing it justice — just trust me, read it. It's so fantastic."
–Liberty Hardy, Book Riot's All the Books Podcast
"This deliciously ambitious novel delivers one memorable character after another. None is more magnetic than the "Widow Nash" herself, a fabulous heroine and irresistible travel companion. Jamie Harrison is a clever, gifted writer, and this shining book is flat-out terrific."
—Carl Hiaasen, New York Times bestselling author of Razor Girl
"With technicolor, vibrant prose, Jamie Harrison's novel The Widow Nash re-invents the Western from a feminist perspective; from the first page, the fierce Dulcy brings the reader into her unforgettable world. A novel as wildly original and memorable as the West itself."
—Karen E. Bender, author of Refund, a Finalist for the National Book Award
"Jamie Harrison's precise and mesmerizing prose carries the reader through an adventurous story of escape, identity, and rebirth with dynamic and fascinating characters. It's an Old Western mixed with a Victorian classic, all with a fierce feminist twist. I read it compulsively."
—Katie Eelman, booksellers for Papercuts in Boston
"If an Edith Wharton heroine had decided to ditch the bustles and the propriety and simply light out for a fresh start in the Territories, she might have called herself the Widow Nash. Jamie Harrison has turned her formidable talents to breathing life into just such a creature, with astonishing results."
—Malcolm Brooks, author of Painted Horses
"I really loved this rollicking tale of re-invention set in Montana of the early 1900's. Dulcy has traveled the world with her eccentric, wealthy, prospector Father searching for new mines and a cure for syphilis. After his death the money seems either gone or hidden and Dulcy faces a restrictive life with her deranged fiance. She fakes her own death and disappears into the American West emerging in small town Montana as the widow Nash. There she builds a new life among the quirky, colorful denizens of Livingston and adventure follows. Harrison's Montana is both beautiful and harsh. Her characters are richly drawn. I kept thinking, 'Wow! Cinderella landed in Deadwood.'"
—Kathi Kirby, Bookseller for Powell's Books in Portland
"Historic fiction at its best, this sweeping novel features a strong woman, her brilliant but eccentric father, and the dark obsessive man who was both her father's business partner and her ex-fiancé . . . Dulcy is a vivid heroine, brave, intelligent, and unwilling to accept the limits on women imposed by her era; instead she risks everything for life on her own terms encompassing the possibility of joy and meaning. The writing is sublime; you can almost feel the winds that howl in Livingston, Montana; the descriptions are haunting and make you feel as if you are there."
―Deon Stonehouse, staff pick for Sunriver Books & Music in Sunriver, OR
"The Wild West takes on a feminist perspective in Jamie Harrison's mesmerizing The Widow Nash "
―B estselling novelist Caroline Leavitt, The New York Times and USA T oday,
"The Widow Nash" is an extremely beautiful book. It is at times profoundly quiet, as Dulcy isolates and insulates herself, holding her tongue and biding her time, trying both to assimilate into her adopted home and to remain invisible and separate. At other times, the danger, the intrigue, and the thrills are seismic. Jamie Harrison has breathed vitality and feminine strength into a landscape – the turn-of-the-century West – that makes it intensely compelling and memorable."
– Joslyn Allen, The Chronic Bibliophilia
"With loads of drama (murder! theft!) and an empowering message, this is pretty unputdownable."
―PureWow
"This is a rich and interesting story about a young woman in America in the early 20th century who takes her life in her own hands and makes the decision to choose herself rather than succumbing to what is expected of her. . . . I cannot imagine a reader who wouldn't be entranced by her story."
–The Historical Novel Society
"Jamie Harrison… shares a number of traits with her father [Jim Harrison] – superior storytelling skills, love of landscape, wry humor and a knack for gorgeous writing about food. The Widow Nash reverberates with a daughter's affection for a larger-than-life father, surely a tribute of sorts to a real-life relationship."
–Newsday
THE WIDOW NASH is an Editors' Choice by The New York Times Book Review  "Ten Books We Recommend This Week"
Read The New York Times Book Review of THE WIDOW NASH
Watch the Nancy Pearl interview with Jamie Harrison
Read Jamie Harrison's essay on the origins of The Widow Nash and the case of mistaken identity behind her father Jim Harrison's Legends of the Fall on the Literary Hub
Read the starred review of The Widow Nash in Publishers Weekly
Read Jamie Harrison's guest post on The Quivering Pen about her first protagonist
Read the Bend Bulletin review of THE WIDOW NASH
Read the Caroline Leavitt interview with Jamie Harrison
On Grit and Grittiness: Feminist Novels Set in the West chosen by Jamie Harrison for Read it Forward
Listen to the HarperAudio Presents interview with Jamie Harrison
Listen to the Book Riot All the Books Podcast review of The Widow Nash
Five Questions for Jamie Harrison
One of PureWow's "7 Books We Can't Wait to Read in June"
Read the Omnioracious interview with Jamie Harrison
Read the Livingston Enterprise review of THE WIDOW NASH
Read the Chronic Bibliophilia review of THE WIDOW NASH
Watch the Seattle Refined Book Club discussion of THE WIDOW NASH
Read the Historical Novel Society review of THE WIDOW NASH
Jamie Harrison has lived in Montana with her family for almost thirty years. She has worked as a caterer, writer, and as a technical editor for archaeological, botanical, and biological reports. She is the daughter of Jim Harrison.