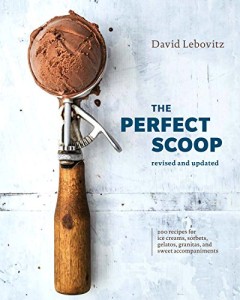 David Lebovitz
The Perfect Scoop, Revised and Updated: 200 Recipes for Ice Creams, Sorbets, Gelatos, Granitas, and Sweet Accompaniments
(Ten Speed Press, March 2018)
A revised and updated edition of the best-selling ice cream book, featuring a dozen new recipes, a fresh design, and all-new photography. This comprehensive collection of homemade ice creams, sorbets, gelatos, granitas, and accompaniments from New York Times best-selling cookbook author and blogger David Lebovitz emphasizes classic and sophisticated flavors alongside a bountiful helping of personality and proven technique.
David's frozen favorites range from classic (Chocolate-Peanut Butter) to comforting (S'mores Ice Cream) and contemporary (Lavender-Honey) to cutting-edge (Labneh Ice Cream with Pistachio-Sesame Brittle). Also appearing is a brand new selection of frozen cocktails, including a Negroni Slush and Spritz Sorbet, and an indulgent series of sauces, toppings, and mix-ins to turn a simple treat into a perfect scoop of delight.
David Lebovitz has been a professional cook and baker for most of his life; he spent nearly thirteen years at Berkeley's Chez Panisse until he left the restaurant business in 1999 to write books. He is the author of six books, including My Paris Kitchen, The Perfect Scoop, and The Sweet Life in Paris. David has been featured in Bon Appétit, Food & Wine, Cook's Illustrated, the Los Angeles Times, Saveur, Travel + Leisure, the New York Times, and more. He moved to Paris in 2004 and turned davidlebovitz.com into one of the first phenomenally popular food and living blogs.