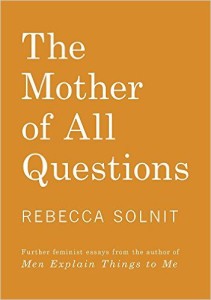 Rebecca Solnit
The Mother of All Questions: Further Reports from the Feminist Revolutions
(Haymarket Books, March 2017)
One of NPR's "Best Books of 2017"
In a timely and incisive follow-up to her national bestseller Men Explain Things to Me, Rebecca Solnit offers sharp commentary on women who refuse to be silenced, misogynistic violence, the fragile masculinity of the literary canon, the gender binary, the recent history of rape jokes, and much more.
In characteristic style, Solnit mixes humor, keen analysis, and sharp insight in these eleven essays.
Praise for Men Explain Things to Me
"It's a fraught time to be female in America (or should I say fraught-er), and Rebecca Solnit's Men Explain Things to Me is the most clarifying, soothing, and socially aware document I've read on the topic this year."
—Lena Dunham, Wall Street Journal
"The Antidote to Mansplaining."
—The Stranger
"Feminist, frequently funny, unflinchingly honest, and often scathing in its conclusions."
—Salon
Read Rebecca Solnit's interview with The Guardian discussing THE MOTHER OF ALL QUESTIONS and more.
Rebecca Solnit is the author of sixteen books about environment, landscape, community, art, politics, hope, and memory, including Men Explain Things to Me, The Faraway Nearby, A Paradise Built in Hell: The Extraordinary Communities that Arise in Disaster, A Field Guide to Getting Lost, and Wanderlust: A History of Walking, as well as the recipient of many awards, including the Lannan Literary Award and the National Book Critics Circle Award.