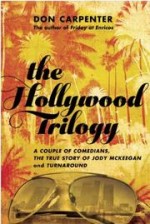 Don Carpenter
The Hollywood Trilogy
(Counterpoint, September 2014)
Don Carpenter's masterful Hollywood novels take readers deep inside the motion picture industry—into the ambitious, obsessive lives of its producers, writers, actors, and deal makers. Don Carpenter wrote about Hollywood like no one else. THE HOLLYWOOD TRILOGY collects, for the first time, Carpenter's most significant Hollywood novels—A Couple of Comedians, The Turnaround and The True Life Story of Jody McKeegan—into a single volume. Here readers will find the jungle of "B" movie Hollywood with no attempt to dress up the rawness and vulgarity of this "glamorous" town. Carpenter's characters occupy every facet of Hollywood—there are naïve and shy young men trying to break into the business, one-picture wonders, comedy duos, beautiful starlets and middle-aged moguls wondering how exactly they got where they are. All are drawn with the wit, pace and above all, the authenticity that were Don Carpenter's trademarks.
Following the Spring 2014 publication of Friday at Enrico's, Carpenter's "forgotten" novel, finished and championed by Jonathan Lethem, interest in Carpenter's work is at an all-time high. THE HOLLYWOOD TRILOGY will introduce readers to an entirely new facet of Carpenter's work, just waiting to be discovered by a contemporary audience.
"Despite the late recognition being bestowed in recent years on Carpenter (who took his own life in 1995 while facing a myriad of illnesses)…he remains one of the best unheralded American novelists of the last half of the twentieth century."
-Charles Taylor, Barnes and Noble Book Review