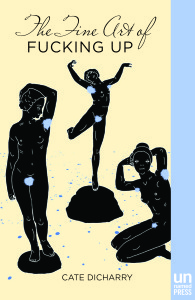 Cate Dicharry
The Fine Art of Fucking Up
(Unnamed Press, April 2015)
It's war at the School of Visual Arts, and nobody's art is safe. Not even Jackson Pollock's.
Your archenemy taunts you with clandestine bacon frying. Your boss feverishly cyberstalks an aging romance novel cover model. Your husband unexpectedly takes in a wayward foreign national. Your best friend reveals a secret relationship with your longstanding workplace crush.
Welcome to the life of Nina Lanning, lone and floundering administrator of a prestigious Midwestern art school. Her colleagues are pioneers of contemporary art movements, inspirational orators, creative virtuosos and the source of constant headaches as they rage against the authority Nina represents. They also happen to be her closest friends.
When once-a-century flooding threatens to destroy the art building, and the priceless Jackson Pollock trapped inside, Nina and her ragtag band of faculty members undertake to rescue the early work of the splatter master. Propelled by disasters both natural and personal, Nina must confront her colleagues, her husband, and most importantly, herself. Cate Dicharry's debut novel is a painfully hysterical examination of what is truly worth saving, and mastering the art of letting go.
Praise for The Fine Art of Fucking Up
"Funny and charmingly ridiculous."
—Kirkus Reviews
"The juxtaposition of comedy and insight make The Fine Art of Fucking Up a delightful read. Dicharry does a masterful job of using humor to reflect on Nina's humanity even as that humanity makes Nina's predicament even more absurd. The novel succeeds both in being a fun, lighthearted exploration of how things can go awry and a more thoughtful look at what we must discard to get past our own troubles as well as the role art can and can't play in that transformation.​"
—Anna March, The Rumpus
"[A] remarkable debut novel… a dark and funny mix of slapstick, observational humor and institutional satire."
—Heather Scott Partington, Electric Literature
"The target audience of The Fine Art of Fucking Up—"fine art," get it?—is thinking readers who want cultivated entertainment and are not above a book that situates itself in the defiantly low precincts of pure fun…Call it beach reading for the library carrel…To be sure, comedy is very, very hard to write. Every time Dicharry made me laugh, which was often, I felt like she deserved a trophy. She gathered a nice little shelf of them."​
—Melissa Holbrook Pierson, ​​Bookforum
"Cate Dicharry's exemplary debut novel The Fine Art of Fucking Up is the literary version of what you'd get if, say, Remedios Varo had painted 'Dogs Playing Poker', or Man Ray was responsible for Glamour Shots Photography: an honest artspace where both absurdity and ubiquity live together like the proper mates they actually are. Where the eccentricities of an artist do not exempt him from humdrum human woe: petty jealousies, university politics, the complexities of marriage, the annoyance of houseguests. Rain falls on the painter and the painting alike. Dicharry's comic timing is unimpeachable and though her characters are idiosyncratic and quirky, they are deeply dimensional and exceptionally real. A richly complicated and rewarding novel."
—Jill Alexander Essbaum, author of Hausfrau
"Cate Dicharry has an unwaveringly merciless eye for the bogus aspects of art school. But you don't ​need a​ BA in Painting or Performance Studies to enjoy the screwball comedy of The Fine Art of Fucking Up. ​An affectionate yet unsparing view of how easy it is to lose one's way."
—Sara Levine, author of Treasure Island!!!
"How thoroughly The Fine Art of Fucking Up sucked me in, and how, like good books tend to do, this novel operated by some kind of clairvoyant book magic: This is exactly the book you need to read right now; this is your life, but enough not your life to see it clearly. Good job. Keep reading."
—Kailyn McCord, Quaint Magazine
"The title of this book will not lead you astray: fucking up happens here, in spectacular, delightfully, absurdly over-the-top fashion. Cate Dicharry's debut is a smart and tremendously fun read, and I rooted for Dicharry's Nina Lanning and her colleagues to pull off their crazy escapade all the way."
—Elizabeth Crane, author of We Only Know So Much
"In The Fine Art of Fucking Up, Cate Dicharry ups the ante on the campus novel, delivering a hilarious and often bloody tale of administrative derring-do. This is a sharp, big-hearted debut by a writer with talent to burn."
—Jim Gavin, author of Middlemen
Read the Electric Literature review of The Fine Art of Fucking Up
Read about The Fine Art of Fucking Up on Riveter's list of great spring reads
Read Cate Dicharry's self-interview for The Nervous Breakdown
Read The Rumpus review of The Fine Art of Fucking Up
Read the Bookforum review of The Fine Art of Fucking Up
Listen to Cate Dicharry on Iowa Public Radio
Listen to Cate Dicharry on Brad Listi's Otherppl podcast
Listen to Cate Dicharry on Tony DuShane's Drinks With Tony podcast
Read Cate Dicharry's hilarious account of her book tour on Literary Hub
Read the interview with Cate Dicharry in Fourth Magazine
Cate Dicharry graduated from Lewis & Clark College in Portland, OR with a BA in Political Science in 2003. Cate moved to China to teach English at Dalian Nationalities University and discovered a love for creative writing. Cate went on to earn an MFA in Creative Writing from the University of California, Riverside. Cate lives in Iowa City with her husband and two small sons. The Fine Art of Fucking Up is her first novel.