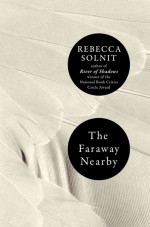 Rebecca Solnit
The Faraway Nearby
(Viking, June 2013)
Foreign Rights have been sold to: Granta (UK), Quetzal/Bertrand (Portugal), and Diadolos (Sweden).
NBCC Finalist for Autobiography
2014 Finalist for PEN/Diamonstein-Spielvogel Award for the Art of the Essay
New York Times 2013 Notable Book
ALA Notable Book
In this exquisitely written new book, a fitting companion to her much-loved A Field Guide to Getting Lost, Rebecca Solnit explores the ways we make our lives out of stories, and how we are connected by empathy, by narrative, by imagination. In the course of unpacking some of her own stories—of her mother and her decline from memory loss, of a trip to Iceland, of an illness—Solnit revisits fairytales and entertains other stories: about arctic explorers, Che Guevara among the leper colonies, and Mary Shelley's Dr. Frankenstein, about warmth and coldness, pain and kindness, decay and transformation, making art and making self. Woven together, these stories create a map which charts the boundaries and territories of storytelling, reframing who each of us is and how we might tell our story.
"A memoir made up of interlocking stories that also explore the way we use storytelling to understand ourselves and others…In her famously lyrical prose, Solnit writes about her own life, her family, and her reading, and she revisits the myths and ideas that have shaped her world."
–New Yorker.com
"Solnit is one of our finest thinkers, and a nonfiction writer of uncommon grace and eloquence, a polymath with an ability to bring together a wide array of information and experience and somehow get it all to cohere."
–The Los Angeles Times
"A tale within a tale within a tale ranging from her mother's dementia to Che Guevara, Frankenstein, and the color white.  Like Scheherazade's Thousand and One Nights, the stories that Solnit threads together pulse with the urgency of a woman trying to save her life…What is most captivating about the stories Solnit tells, though, is not the many-antlered details but how from a distance they are all connected…what Solnit offers us, I think, is the future of memoir.  Not the story of the self…but the ways in which one's story opens into other stories…a deeply moving account of why we create – why we make stories…literary nonfiction doesn't get more beautiful and compelling."
–The American Scholar
"Her most intimate book to date…offers all the surprises and pleasures of Solnit's discursive style…Solnit opens a door into a maze of stories within stories, a dreamlike memoir composed of fairy tales, literary criticism, history, philosophy and aphorism…her idiosyncratic style of argument by analogy and imaginative association brings Mary Shelley, Napoleon, revolutionary monks in Myanmar, and many others into a work that is part memoir and part cultural criticism, exploring the ways we create and re-create the self…the product of a remarkable mind at work, one able to weave a magnificent number of threads into a single story, demonstrating how all of our stories are interconnected."
–Bookforum
"Magnificent…Solnit is asking us to pause, to consider the stories we tell ourselves about our lives, and to rethink the unstated assumptions of our own interior epics…Solnit is the memoirist as philosopher, gently, and then not so gently, urging us to transcend our own frailties, and our limitations…Solnit's anti-memoir is a pivot to the outside, a gaze at the world that reflects her own image back at her."
–The National (Canada)
"Rebecca Solnit is an explorer of the most exquisite kind, and a writer of the public road…part of the experience of this book is discovering how it works.  It is no ordinary memoir, if it is a memoir at all…The Faraway Nearby is a compilation of personal stories and forays into philosophy, natural history, art and culture, and the writing life.  It's a story about stories, written in swirling loops, one leading from and into another.  We follow Solnit's mind, and what a mind it is, as vast and intriguing as a system of caverns and passageways opening into more caverns and passageways.  Like Bruce Chatwin before her, Solnit is an artist of the fantastic…to read The Faraway Nearby is to become subtly unhinged, to stand in a state of anxiety and awe at the boundlessness of the Earth, and of the human drama upon it…among Solnit's great achievements is managing so much discordant and concordant information, in making the leaps and transitions from one idea to the next, in finding her way and so helping us, her readers, find ours…few writers working in memoir are capable of pulling this off, of going all the way out and making it back home."
–Los Angeles Review of Books
"[An] inspired reverie, which wanders through many kinds of elsewhere, near and far, and many different twists and turns of familiar estrangements…Solnit has honeycombed her work with chambers, like the jars of golden fragrant fruit, and filled each of them to the brim with reflections…[it is] voracious in its range of allusions…Solnit is a resourceful spinner of yarns and forger of symbols, a powerful reporter, a marvelous reader of other writers' work, quick and deft with aphorisms…The Faraway Nearby is a finely-wrought, intense, and eloquent manifesto for hearing stories – and making them up."
–Marina Warner, The Guardian (U.K.)
"[A] purposeful exploration of how we spin and follow stories, of how they can lead us on a journey toward self-definition and empathy…The Faraway Nearby is as precisely crafted as the raft on which she finally explores the Grand Canyon.  The book's parabolic structure is a marvel…her reflections on storytelling and books, her twin passions…are rarely articulated so cogently."
–The Barnes and Noble Review
"A lovely [book] that, not unlike Joan Didion's The Year of Magical Thinking, may bring readers catharsis or consolation,"
–Slate.com
"At its best her writing is an exhilarating form of cartography, meandering through subjects as diverse as the development of photography, the philosophy of popular protest and the history of walking while always keeping us in touch with the people at the center of those stories."
–The Financial Times
"'All stories are really fragments of one story,' Solnit writes, 'the metamorphoses.' In The Faraway Nearby, as with all good tales, it is the reader who is changed."
–The San Francisco Chronicle
Editor's pick for Top Ten Best Books of the Month on Amazon (June, Biography and Memoir)
Chosen for the Huffington Post's column, "The Book We're Talking About"
Read an excerpt of Chapter One on Truthout
Listen to an interview with Rebecca Solnit on NPR
Rebecca Solnit on the Silicon Valley Google bus:
"Resisting Monoculture" in Guernica Magazine of Art & Politics

"Are The Techno Riche Really Ruining San Francisco?" in Bloomberg Businessweek
"How to Act Like a Billionaire" on TomDispatch.com
"Diary" in London Review of Books