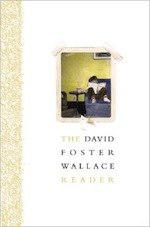 David Foster Wallace
The David Foster Wallace Reader
(Little Brown, December 2014)
A compilation of selected fiction and nonfiction from one of the most original writers of our age. Astounding chapters from the novels The Broom of the System, Infinite Jest, and The Pale King are here, along with legendary stories including "The Depressed Person," "Good Old Neon," and his  previously uncollected  first story.  This collection also features Wallace's essays delving into luxury ("A Supposedly Fun Thing I'll Never Do Again"), morality ("Consider the Lobster"), sports ("Roger Federer Both Flesh and Not"), literature, and the deep paradoxes of American life, plus reading lists and commentary from his life as a teacher.
The David Foster Wallace Reader will include original essays from 12 prominent writers and critics including Sven Birkerts, Jo Ann Beard, Hari Kunzru, Nam Le and Deborah Treisman on their favorite Wallace works. 
Read about the David Foster Wallace Reader in Newsweek
Read about the David Foster Wallace Reader on TheMillions.com