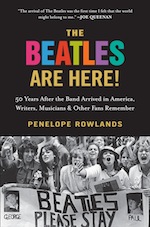 Penelope Rowlands
The Beatles Are Here! 
(Algonquin, February 2014)
The Beatles Are Here! explores the emotional impact—some might call it hysteria—of the Fab Four's February 1964 arrival on our shores through the voices of those who witnessed it, those who were swept up in it indirectly, and those who, born too late, came to love the band decades after they broke up. Contributors—writers, musicians, and public figures—describe in essays, oral histories, and other ways how they were inspired and changed by the Beatles.
Conceived as "a scrapbook of madness," in John Lennon's famous words, this collection arose from writer Penelope Rowland's own Beatlemaniac phase, when she was one of four screaming girls captured in an iconic photograph that has been published around the world. In the book, musician Billy Joel reminisces about being a kid on Long Island when the Beatles arrived; humor writer Joe Queenan recalls that when he first heard "She Loves You," at age thirteen, it "was the first time in my life I heard a song that seemed to belong to me";  photographer Henry Grossman takes us into the audience of The Ed Sullivan Show—where the Beatles first appeared—and then on tour with the band.The Beatles Are Here! is a celebration of the myth, the reality, the phenomenon, the era. Where did the Beatles take us, what did they deliver us from, and finally, what do they mean to us now?
"a goody bag of tributes and recollections of that hallowed time"
—Vanity Fair
"In this compulsively readable personal history, Rowlands gathers the recollections of fans, writers, musicians, and artists about the deep ways that the Beatles and their music affected them."
—Publishers Weekly
Featured on the Today Show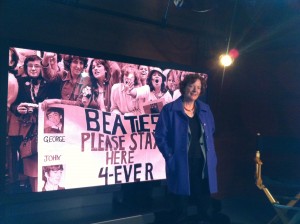 Soon to be excerpted in AARP.