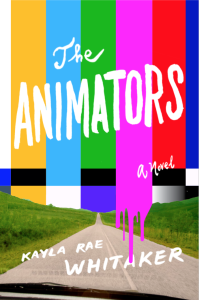 Kayla Rae Whitaker
The Animators
(Random House, January 2017)
Chosen by Book Riot as one of the "Best Books of 2017 (so far)"
Chosen by Kirkus Reviews as one of the "Best of Fiction 2017"
Chosen by BookPage as one of the "Best Books of 2017"
One of NPR's "Best Books of 2017"
In their freshman year of college, Mel Vaught and Sharon Kisses, one from the Florida swamps, the other from rural Kentucky, both outsiders at their prestigious east coast college, meet in "Introduction to Sketch" and become instant best friends. A decade later they have become semi-famous animators in New York City, creating intimate films out of their personal lives and the secrets in their pasts. When tragedy strikes, Mel and Sharon must return home, to the places they wanted to forget, and confront family, friends and lovers who don't understand and feel betrayed by their choice to make art out of difficult lives.
The Animators is the rare novel about female creativity and ambition. Mel and Sharon are recognizable and hard to look away from female characters and Mel, vividly real and unforgettable, is one of the great lesbian characters in a novel. Like Lena Dunham's HBO series Girls, about young women finding their way in the world, or Meg Wolitzer's The Interestings, about a circle of friends over time, The Animators is perceptive, funny, sometimes bitter, and refreshingly real.
Praise for The Animators
"A compulsively readable portrait of women as incandescent artists and intimate collaborators."
—Elle
"[An] outstanding debut . . . Whitaker skillfully charts the creative process, its lulls and sudden rushes of perfect inspiration. And in the relationship between Mel and Sharon, she has created something wonderful and exceptional: a rich, deep, and emotionally true connection that will certainly steal the hearts of readers."
—Publishers Weekly (starred review)
"Unexpected and nuanced and pulsing with life . . . Sweeping and intimate . . . Empathetic but never sentimental; a book that creeps up on you and then swallows you whole."
—Kirkus (starred review)
"Suffused with humor, tragedy and deep insights about art and friendship, this lively novel will make you wish Mel and Sharon's films existed off the page."
—PEOPLE
"I was thrilled to find a book that takes women's friendships so seriously…[The Animators] is funny and sad and really beautiful. An excellent debut by Kayla Rae Whitaker."
– Teresa Preston, Book Riot
"Visceral…utterly compelling…With the nonstop tension of a soap opera, Whitaker's debut traces all the big fights and revelations with care….The Animators is recommended for anyone who enjoys unsettling dramas about people who can't escape themselves."
—Booklist
"An engrossing, exuberant ride through all the territories of love – familial, romantic, sexual, love of friends, and perhaps above all, white-hot passion for the art you were born to make. I wish I'd written The Animators."
—Emma Donaghue, author of Room and Frog Music
"The Animators is a wildly original novel that pulses with heart and truth. That this powerful exploration of friendship, desire, ambition and secrets manages to be ebullient, gripping, heart breaking and deeply deeply funny is a testament to Whitaker's formidable gifts. I was so sorry to reach the final page and Sharon and Mel will stay with me for a very long time."
—Cynthia D'Aprix Sweeney, author of The Nest
 "Every artist must come from somewhere; this is something you try to outrun, even as home fuels the creative engine. The Animators is a novel about a pair of cartoonists, but it's also about the complexity of creative friendship, about balance and jealousy, growing into yourself and living with your talent and trying to actually, impossibly get along in this cracked and unjust world. The result is unapologetic and raucous and compulsively readable; it is potato chip friendly, and deeply, generously wise."
—Charles Bock, author of Alice & Oliver and Beautiful Children
"The Animators is a heartbreakingly beautiful, sharply funny, arrestingly unforgettable novel about love and genius, the powerful obsessiveness of artistic creation and the equally powerful undertow of the past. Kayla Rae Whitaker writes like her head is on fire."
—Kate Christensen, PEN/Faulkner award-winning author of The Great Man
"The Animators is inspiring in its freshness and its authenticity, one of the most original and raw books I've read in a long time. I look forward to more Whitaker novels to add to my library."
—Dallas Morning News
Starred Review of The Animators in Publishers Weekly
A Publishers Weekly Writers to Watch: Big Debut Pick for Spring 2017
Elle's 21 Must-Read Books for Fall 
A Barnes & Noble Discover Great Writers Pick for Spring 2017
One of InStyle's 7 Books You Need to Read in January
One of Entertainment Weekly's 16 Debut Novels to Read in 2017
A Review of The Animators in The New York Times
Dallas Morning News' Review of The Animators
The Boston Globe's Review of The Animators
The Animators in The New Yorker's "Briefly Noted"
The Washington Post's Review of The Animators
Listen to Book Riot's All the Books! podcast discuss The Animators
Read an excerpt from the chapter "Our Filthy Dirty Party" on Lenny
Read an excerpt from the chapter "What We Did to NPR" on Lithub
Listen to an interview with Kayla Rae Whitaker on Book Talk
Listen to an interview with Kayla Rae Whitaker on WUKY
Entertainment Weekly's book critic David Canfield gives The Animators a shout-out in LitHub's "Secrets of the Book Critics" column

Kayla Rae Whitaker grew up in eastern Kentucky and has an MFA in fiction from New York University. She has been nominated for the Pushcart Prize twice and published fiction in the Green Mountain Review, Smokelong Quarterly, BODY, Bodega, Joyland, The Switchback and Still.