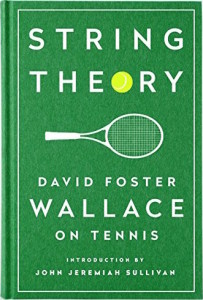 David Foster Wallace, with an introduction by John Jeremiah Sullivan
String Theory: David Foster Wallace on Tennis
(Library of America, special edition, May 2016)
Christian Science Monitor on String Theory
NY Sports Day on String Theory
Milwaukee Journal Sentinel on String Theory
Sioux City journal on String Theory
An instant classic of American sportswriting—the tennis essays of David Foster Wallace, "the best mind of his generation" (A. O. Scott) and "the best tennis-writer of all time" (New York Times).
Both a onetime "near-great junior tennis player" and a lifelong connoisseur of the finer points of the game, David Foster Wallace wrote about tennis with the authority of an insider, the showmanship of a literary pyrotechnician, and the disarming admiration of an irrepressible fan. Including his masterful profiles of Roger Federer and Tracy Austin, String Theory gathers Wallace's five famous essays on tennis, pieces that have been hailed by sportswriters and literary critics alike as some of the greatest and most innovative magazine writing in recent memory. Whiting Award-winning journalist John Jeremiah Sullivan provides an introduction.
Praise for String Theory
"I could fill this entire review with descriptions as lively–and that would just be the highlights, glitter Wallace sprinkles atop insightful observations about tennis and what it says about the human spirit."
–Tom Perrotta, author of Little Children and The Leftovers for The Wall Street Journal
"David Foster Wallace's essay on tennis are a treasure, some of the best writing ever on the sport…Wallace wrote about tennis with the authority of an insider, the style of a literary virtuoso, and an admiration that a dedicated fan would have."
–Jason Schott, NY Sports Day
"Tennis, anyone? When the late novelist and enviably brilliant nonfiction hobbyist David Foster Wallace explores the sport, the answer is always going to be yes."
–Erik Spanberg, The Christian Science Monitor
"A compilation of the late novelist's essays on tennis, a sport he played well as a youth and covered like no one else as an adult."
–Jim Higgins, Milwaukee Journal Sentinel
"The Library of America has just published String Theory: David Foster Wallace on Tennis, a slim volume of beautifully written, never collected essays by one of the great tragic figures of American literature, David Foster Wallace…Like Wallace's fiction, these pieces are finely detailed, footnoted, and discursive, with contrasting passages of economical expressibility and sprawling discursiveness."
–Cory Doctorow, Boing Boing
David Foster Wallace wrote the acclaimed novels Infinite Jest and The Broom of the System and the story collections Oblivion, Brief Interviews with Hideous Men, and Girl With Curious Hair. His nonfiction includes the essay collections Consider the Lobster and A Supposedly Fun Thing I'll Never Do Again, and the full-length work Everything and More.  He died in 2008.
John Jeremiah Sullivan is one of America's leading practitioners of the long-form magazine profile, with work appearing in The New York Times Magazine (where he is a staff writer), Harper's (of which he is a contributing editor), The New Yorker, New York, Oxford American, GQ, and other magazines. He is the author of Blood Horses: Notes of Sportswriter's Son and Pulphead.