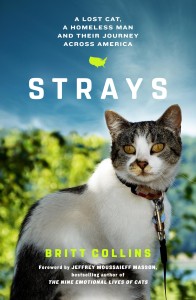 Britt Collins
Strays: A Lost Cat, a Homeless Man, and Their Journey Across America
(Atria, Hardcover July 2017, Paperback June 2018)
Chosen by Bustle as one of the "16 Best Nonfiction Books Coming in July"
For fans of A Street Cat Named Bob and Dewey: The Small-Town Library Cat Who Touched the World, Strays is a compelling true story of a man who rescues a stray, injured cat and how they save each other.
Homeless, alcoholic, and depressed, Michael King lives in a UPS loading bay on the wrong side of the tracks in Portland, Oregon. One rainy night, he stumbles upon a hurt, starving, scruffy cat and takes her in. Nursing her back to health, he names her Tabor and she becomes a bit of a celebrity in southeast Portland. When winter comes, they travel from Oregon to the beaches of California to the high plains of Montana, surviving blizzards and bears, angry steers and rainstorms. Along the way, people are drawn to the spirited, beautiful cat and moved to help Michael, who cuts a striking figure with Tabor riding high on his backpack or walking on a leash. Tabor comforts Michael when he's down, giving Michael someone to love and care for, and inspiring him to get sober and to come to terms with his past family traumas and grief over the death of his life partner.
As they make their way across the West Coast, the pair become inseparable, healing the scars of each other's troubled pasts. But when Michael takes Tabor to a veterinarian in Montana, he discovers that Tabor has an identification chip and an owner in Portland who has never given up hope of finding his beloved cat, Michael makes the difficult choice to return to Portland and reunite Tabor with her owner. Now Michael must create a new purpose in his life after Tabor.
The authentic tale of an adventurous and charismatic cat and her compassionate human admirers, Strays proves the healing power of love and the profound bond between humans and animals.
Advance Praise for Strays:
"A touching, in-depth look at the lives of a remarkable stray cat and a remarkable down-and-out man who brought each other joy and unexpected adventure. This lovely, luminous story will warm your heart, make you laugh and want to share your life with a rescue cat."
–Jeffrey Moussaieff Masson, author of The Nine Emotional Lives of Cats
"At times heart-wrenching, Strays held me captive, eager, and anxious for little Tabor to find her way back home. And at the end, I was reminded of the ultimate price of loving an animal—the moment of loss, the moment when you have to say the pain was worth the gift of loving another of the world's creatures."
–Barbara Bennett, author of Soul of a Lion
Read the New York Posts' article on STRAYS
Watch The Dodo's story on the people and cat at the heart of STRAYS
Read The Conscious Cat review of STRAYS
Listen to Britt Collins in conversation with Michelle Fern of Cattitude
Read the Fully Feline review of STRAYS
Read the Melissa's Mochas, Mysteries and Meows review of STRAYS
Britt Collins is a British journalist and writes for The Guardian, Sunday Times, the Independent, Harper's Bazaar, Condé Nast Traveller, and is a contributing editor for Billionaire.com. She has volunteered at sanctuaries around the world, from tending big cats and baboons in Namibia to wild horses in Nevada, that have inspired features for The Guardian and the Sunday Times. While writing for the British tabloid, the Sunday People, she has raised hundreds of thousands of dollars for many international charities through her investigative animal-cruelty stories; as an activist, she has help shut down controversial breeders of laboratory animals. She lives with her cats in London.