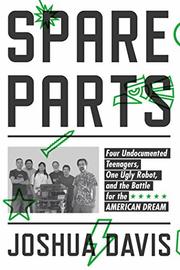 Joshua Davis
Spare Parts: Four Undocumented Teenagers, One Ugly Robot, and the Battle for the American Dream
(Farrar, Straus and Giroux, 2014)
Reality is complicated, notes Wired magazine contributing editor Davis in this powerful chronicle of four West Phoenix teenagers who proved they knew more about what to do with "spare parts" than the leaders of the country they called home. In 2003, Lorenzo Santilian, Oscar Vaquez, Christian Arcega, and Luis Arranda had been all but written off by Arizona's educational and political systems. Children of Mexican immigrants who had been brought into the U.S. illegally, they found themselves attending a severely underfunded barrio school. Yet in 2004 theyscraped together used-car parts and created a funny-looking but impressively functional underwater robot that won first place—and national recognition—in the prestigious, NASA-sponsored Marine Advanced Technology Education Robotics Competition, overcoming competition that included MIT engineering students. All things being equal, these four engineering geniuses should have been able to write their own tickets to the best universities in the country. But all things are not equal. Far from it. Davis pulls no punches as he describes the grim sociopolitical atmosphere that allows the oppression of talented people for no morally acceptable reason. The four young inventors and their struggles helped spur the DREAMers movement, and their story will also be told in a forthcoming Hollywood movie. This is important reading.
"A gratifying human interest story that calls attention to the plight and promise of America's undocumented youth."
—Library Journal
Read about Spare Parts in Publishers Weekly
Read about Spare Parts in Kirkus Reviews

Read about Spare Parts in Booklist

Read about Spare Parts in Library Journal
Listen to Joshua Davis and three of the people featured in his book on The Diane Rehm Show