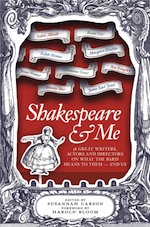 Susannah Carson
Shakespeare & Me
(One World, April 2014)
Previously published as Living with Shakespeare (Vintage, April 2013)
Published to coincide with William Shakespeare's 450th birthday.
In Shakespeare & Me, Susannah Carson invites forty actors, directors, scholars, and writers to reflect on why the bard's work is still such a vital part of our culture.
Forward by Harold Bloom, literary critic and Sterling Professor of Humanities at Yale University.
"Lively….Thought-provoking….The collection is a consistently stimulating read, which goes a great way toward illuminating the degree to which we all live already—and can live even further—with Shakespeare."
—Publishers Weekly
"An eclectic collection of pieces from an eclectic collection of writers about reading, directing, performing and adoring the Bard of Avon….All will find light and warmth, comfort and companionship in these glowing pages."
—Kirkus Review