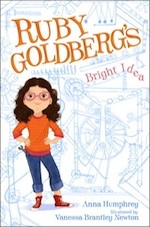 Anna Humphrey
Ruby Goldberg's Bright Idea
(Simon & Schuster Books for Young Readers, April 2014)
Ten-year-old Ruby's only goal is to win her school science fair and beat her nemesis Dominic Robinson. It's been second place for the last two years and that streak ends now. The only trouble is that Ruby has no ideas. When her grandfather's beloved basset hound passes away, Ruby thinks of the perfect thing that will cheer him up and win her first place–an innovative, state-of-the-art, not to be duplicated Ruby Goldberg invention! But it's not too long before Ruby is working on this idea and ignoring everything else in her life, including her best friend, Penny. And what started out as simple turns into something much more complicated!