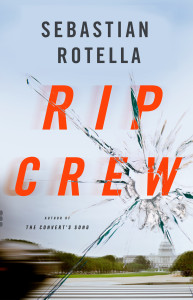 Sebastian Rotella
Rip Crew
(Mulholland-Little Brown, March 2018)
Maverick agent Valentine Pescatore investigates a brutal killing that leads him across borders and reveals a vast conspiracy of wealth and power terrifyingly close to home.
Valentine Pescatore, the dashing ex-U.S. Border Patrol agent, finds himself back on American soil, investigating the merciless killing of a group of women in a motel room. At first, the crime seems to be a straightforward case of gangsters battling for territory. Soon, however, the motive is revealed to be much deeper and more sinister: a single witness who knows too much is being hunted, at any cost.
From an author who has been praised for his "pounding action scenes [and] ferocious prose style" (Marilyn Stasio, NYTBR), RIP CREW races at breakneck speed as Pescatore finds himself face-to-face with his most terrifying assignment yet.
Advanced Praise for Rip Crew
"Rotella is as good at setting up action scenes as he is at springing them (which is saying something: the shootouts are terrific). The crisp dialogue feeds the sculpted plot and vice versa. There is nary a wasted moment in the book or one in which Rotella isn't in complete command. The entertaining combo of Pescatore and Méndez is icing on the cake. Rotella's latest is a tense, gritty thriller—perfectly seedy when it needs to be and near-perfect in its overall execution."
– Kirkus (starred review)
"Rotella writes convincingly about the realities and mechanics of investigative journalism, and his detailed action scenes add just enough mayhem to keep thriller readers on the edge of their seats."
– Publishers Weekly
Read the Kirkus starred review of RIP CREW
Read the Publishers Weekly review of RIP CREW
Sebastian Rotella is the author of The Convert's Song and Triple Crossing, which the New York Times Book Review named its favorite debut crime novel of 2011, as well as the nonfiction book Twilight on the Line. He is a senior reporter covering international security issues for ProPublica, a newsroom dedicated to investigative journalism in the public interest. He worked for twenty-three years for the Los Angeles Times, serving as bureau chief in Paris and Buenos Aires. His honors include a Peabody Award; Columbia University's Dart Award and Moors Cabot Prize for Latin American coverage; the German Marshall Fund's Weitz Prize for reporting in Europe; five Overseas Press Club Awards; The Urbino Prize of Italy, and an Emmy nomination. He was a Pulitzer finalist for international reporting in 2006.