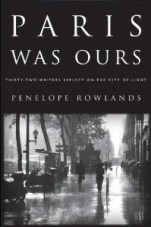 Penelope Rowlands
Paris Was Ours: Thirty-Two Writers Reflect on the City of Light
(Algonquin Books, February 2011)
Paris is "the world capital of memory and desire," concludes one of the writers in this intimate and insightful collection of memoirs of the city. Living in Paris changed these writers forever. In thirty-two personal essays–more than half of which are here published for the first time–the writers describe how they were seduced by Paris and then began to see thins differently. They came to write, to cook, to find love, to study, to raise children, to escape, or to live the way it's done in French movies, they came from the United States, Canada, and England; from Iran, Iraq, and Cuba; and–a few–from other parts of France. And they stayed, not as tourists, but for a long time; some are still living there. They were outsiders who became insiders, who here share their observations and revelations. Some are well-known writers: Diane Johnson, David Sedaris, Judith Thurman, Joe Queenan, and Edmund White. Others may be lesser known but are no less passionate on the subject.
"Speaking of romantic, Paris doesn't merely put visitors in the mood; the city itself is the object of mad crushes. This diverse collection of reflections is a testament to that passion. How we try to fit in: 'I do my best to act like a Parisian,' Ms. Rowlands writes in her own piece. 'I smile only when I actually have something to be happy about, and I cut in line whenever I can.' How we start wearing scarves: "Ditto the purse, a preoccupation that steals in on you like fog,' writes Diane Johnson. Stacy Schiff may encapsulate the thrill of having been an American in Paris best: 'It did what a foreign adventure is supposed to do — it made the mundane thrilling.'"
–The New York Times
"Rowlands compiles into one volume 32 works, about half of which have never been seen before, by different writers who relay their experiences of living in Paris. Although the contributors are as mixed a bag as the City of Light's 20 arrondissements, they report universal similarities: In Paris, the customer is, if ever, only rarely "right." The city's taunting, melancholy beauty is unsurpassed. And any moment passed in the Luxembourg Gardens can be considered time well spent. Rowlands does a seamless job of presenting a city as seen by so many eyes (those of David Sedaris, Stacey Schiff, and Zoé Valdés, to name a few) that readers who've visited will recognize as their own memories, and those who haven't will glean a globally in-depth portrait. (The piece by a Parisian single-mom, blogging about her homelessness, is particularly poignant.) Judith Thurman perhaps sums up the whole endeavor best when she writes that "one of the greatest charms of having lived [in Paris] is the Proustian glamour of being able to claim that one did so."
–Annie Bostrom, Booklist (Starred Review)
"If Paris isn't the most romanticized world city, I don't know which is.
Mention a trip to the French capital and the expression grows wistful as visions are conjured up of lovers along the Seine, café au lait and shopping on the Champs Elysées.
Sometimes these are part of the experience, but the reality is, of course, much harsher. It rains a lot in Paris, Starbucks is everywhere and the proliferation of chain stores on the Champs Elysées makes the shopping experience not so different from being at the Mall of America (Sephora, Gap, H&M).
In Paris Was Ours, Penelope Rowlands culled 32 essays, stories and poems, some original, some previously published, from writers who include professors, single mothers, gay men, a homeless woman, a wealthy Iranian and a poor young Cuban. The collection takes some of the shine off Paris but not the allure — not unlike the pull of a troubled but passionate lover who could never be more than a fling.
In his essay, Walter Wells described what he called the 'dangerously seductive' 'vacation syndrome' of Paris. His wife, Patricia Wells, was not yet a best-selling cookbook writer when the couple found themselves together, often in tears, during their early days in France. Wells said the reality of living in Paris hit him while stuck in traffic on the way from the airport.
'My previous trips to France had lasted days or weeks and had been marked by an epiphany at some museum or cathedral and a lot of feel-good time at sidewalk cafes or strolls in the long summer twilight,' he wrote. 'You actually believe that this magical place you have come to allows you to be the contented, stress-free person you really are.'
He and others dismantle the romanticism with stories of 'La Vie Boheme' in a seven-story walk-up apartment without running water, the unreliability of just about everything, the grim workaday life of a chef, and a stern approach to child rearing. (Dogs are more welcome in some Paris restaurants than children.)
Every writer offers a nugget of perspective on the city, but Roxane Farmanfarmaian's 'Out of the Revolution' is haunting for the picture of life as a young Iranian on vacation in Paris. She tells of the eerie uncertainties of leaving Iran for Paris and trying to return to Iran in 1980.
Ultimately, the writers fall in love with Paris, a city that embraces sorrow, depression, snarkiness, human frailty and living in the moment no matter the menial task that entails.
In dismantling the dream of Paris, they reveal an infinitely more complex city and people. What could be more French than rendering complications from mere adoration? As Alicia Drake wrote in 'The Sky Is Metallic,' 'Parisians do not assume a moral zone of black and white. Nothing is unequivocal, absolute or indisputable.'"
–The Minneapolis Star-Tribune
Penelope Rowlands was born in London, raised there and in New York, and has also lived in Paris. A journalist and critic, she has contributed to Vogue, Architectural Digest, The New York Times, andThe Daily Beast, among other publications. Her most recent book, A Dash of Daring: Carmel Snow and Her Life in Fashion, Art, and Letters, was a biography of the legendary editor of Harper's Bazaar.