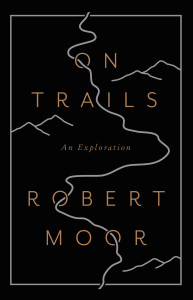 Robert Moor
On Trails
(Simon & Schuster, Hardcover July 2016, Paperback July 2017)
A 2017 National Outdoor Book Awards winner
A 2017 Banff Mountain Book Competition: Mountain Literature – Non-Fiction nominee
A 2017 Pacific Northwest Book Awards winner
LitHub's 21 Books You Should Read This July
BBC's Ten Books to Read in July
National Post's Books to Read in July
Amazon's Editors' Picks: Best Books of the Month: Nonfiction
Utah Public Radio's "What Are You Reading?" 
The Wall Street Journal's "What to Give: Nature Books"
One of "6 Literary Gems from the Coolest Library in the West" in Outside Magazine
Why does every creature from ants following pheromone trails to humans creating the internet choose a path of order instead of chaos?   Over the course of seven years, Robert Moor travelled the globe, hiking from the Appalachians to the Atlas Mountains in Morocco searching for the answer to the question of why we follow a trail. He found the world's oldest trails, learned the tricks of master trail-builders and deer-hunters, visited elephant sanctuaries and tried his hand at herding sheep which turns out to be way harder than it looks. In each chapter of this profoundly informed and funny book, he combines a new adventure with intensive research, bringing in history, philosophy, science, psychology, and nature writing. Bit by bit, he shows how by understanding the ways trails work, we can shed new light on age-old questions about how we live our lives: why we cooperate and why we stray; when to follow and when to lead; why some plans endure while others crumble into dust; why we set forth in the first place—and what we're seeking.
On Trails is a sweeping narrative that reveals how trails allow us to make sense of our disordered world. This is a book that combines the lyrical evocation of John McPhee's works on geology and landscape with the eclectic wisdom of Lewis Hyde's The Gift. Throughout, Moor reveals how this single topic – the oft-overlooked trail – is itself a path toward a higher understanding of how order emerges out of chaos; of our relationships with nature, technology, and the world around us; and ultimately about how we choose to live our lives.
With a breathtaking arc that spans from the dawn of animal life to the digital era, On Trails offers new insight into the unseen worlds that surround us by an exciting new talent.
Read The Seattle Times review of ON TRAILS
Read the Boston Globe "Books in Brief" review of ON TRAILS
Read BuzzFeed Books's review of ON TRAILS
The Wall Street Journal discusses ON TRAILS in "Preparing a Way in the Wilderness"
The Economist discusses ON TRAILS in "Trails and error – The Many Joys of Walking"
Read Sierra Club Magazine's review of ON TRAILS
The Washington Post discusses ON TRAILS in "The deep, greater meaning of following a trail"
Listed on Parnassus Books's "The BIG 2017 Gift List! (Part 1: For Grown-ups)" under Travel Books for Wanderers
Praise for On Trails
"The best outdoors book of the year…An outstanding work that should be read by anyone who has spent time following a footpath through the woods. On Trails delivers on the promise of any good trail: It takes you to some wonderful places."
–Jason Mark, The Sierra Club
"You might think of Robert Moor as the Roger Angell of trail-walking. Just as Angell's reports on specific baseball games segue effortlessly into reflections on the venerable sport itself, so Moor looks up from whatever trail he may be on to see the big picture. Which is often very big, indeed…On Trails is an engaging blend of travelogue, sociology, history and philosophy that might be summed up as a meditation on the centrality of trails to animal and human life…Moor's prose makes him such good company that the reader is happy to keep pace."
–Dennis Drabelle, The Washington Post
"A wanderer's dream, even from an armchair."
–The Economist
"Like Montaigne, Mr. Moor writes about one subject as a way of touching on 100 others. Although his ostensible topic is how humans and other creatures make the routes that get them from A to B, On Trails also considers Greek mythology and the origins of life, the intricacy of caterpillar nests and the stealth of elephants, the physicist Richard Feynman and the Biblical Cain. The thicket of information here comes to resemble a densely wooded trail itself—one that Mr. Moor expertly navigates. He's a philosopher on foot, recording his journey through miles of wilderness and through a mind sorting out the meaning of travel itself. … The only constant in On Trails is the promise of surprise."
–Danny Heitman, The Wall Street Journal
"Moor is an intelligent guide, by turns adventurous, informative and philosophical."
–Jane Ciabattari, BBC's Ten Books to Read in July
"An ingeniously conceived collection. … Like Tom Vanderbilt's Traffic, Moor's book is an appealing mix of the physical and philosophical."
—Paul Taunton, National Post's The Books You Should Be Reading in July
"Spectacular…an example of narrative nonfiction at its finest. Those with a passion for walking, hiking or exploring will be naturally drawn to Moor's subject, but this is so much more than a subject-specific story; it is a book that poses big questions about humanity's place in the world (literally and figuratively) and how we've come to be here–and it's fascinating to its very end."
–Kerry McHugh, Shelf Awareness
"[An] engrossing meditation on trails in animal and human societies…Moor combines vivid reportage told in supple prose with lucid explorations of science and history in an absorbing account of how travelers shape and are shaped by the land they pass through."
–Publishers Weekly
"Stunning … a wondrous nonfiction debut. … In each chapter, Moor explores the same phenomenon in a surprising new context, from the fossilized traces of prehistoric smudges to swaths of jungle flattened by elephants, from the paths of nomadic Native Americans to the interstates that paved them over. Along the way, Moor reaches into the history of science, religion, and philosophy to trace similar lines of refinement in the amassing of knowledge and ideas. … It's an exhilarating journey."
–Tal McThenia, Departures
"Fascinating debut…Following Moor's trails in this book opens many fascinating vistas."
–Irene Wanner, The Seattle Times
"He brilliantly synthesizes his own hiking experiences so that distinctions between history, science, and philosophy meld into a beautiful book."
–The National Book Review
"Part natural history, part scientific inquiry, but most of all a deeply thoughtful human meditation on how we walk through life, Moor's book is enchanting."
–Kate Tuttle, The Boston Globe
"Hanging with [Moor] you meet a host of different byways, get in (and out) of trouble and the experience is not just enlightening, it's sweaty, hot, cold and…well, to say it plainly…fun.."
–Robert Krulwich, National Geographic
"Hiker and journalist Moor [is] the rare thru-hiker whose philosophical ramblings you'll actually want to read. … [A] treatise on how trails—the ones we plan and the ones we accidentally leave behind—shape our culture."
–Brian Kevin, Outside Magazine
"…a truly impeccable work of narrative nonfiction exploring how trails can help us understand our world (trails including everything from fossil trails to ant trails to elephant trails to the Appalachian Trail). It's spectacular, and chock full of fascinating information…"
–Entomology of a Bookworm
"…a deep – at times dense – study of the biological, anthropological, and geographic history of trails. It's the kind of read that's full of facts and insights that will change the way you look at any path — whether you're backpacking in the Rockies or walking through Forest Park."
–Tyghe Trimble, Men's Journal
"Chock full of historical trivia, philosophical musings, and an unflagging sense of joy in winding's one way through both the outdoors and inner self, Moor's multi-dimensional exploration earns him a place on the map of writers to watch…Moor [is] an elegant essayist and researcher…[and] polymath…you'll love the literary adventure."
–Passport Magazine
"Moor's On Trails is a thoroughly researched blend of science and philosophy that offers a fresh perspective on the lived world."
–Jonny Diamond, Lit Hub
"Through complex thematic exploration, stunning prose and an adventurer's spirit, Moor crafts a narrative for hikers, thinkers and just about anyone who enjoys a good wander."
–David Graver, Cool Hunting
"A meditation about paths of life prompted by the author's trip along the Appalachian Trail, inspiring a worldwide quest along the way."
–Wendy Parker, Sports Biblio
"For a combination of adventure physical and intellectual, this book is tough to beat. And if you slice away the covers and trim the edges, it's the perfect companion for a long hike someplace down the trail."
–Bill McKibben, author of The End of Nature and Wandering Home
"An erudite meditation on the communities of creatures who roam across the planet, and how they decide where to go…[Moor] is a pilgrim and a philosopher, walking and wondering, talking to thinkers and thinking wisely on his own; and his book is a lively companion, whether for your own long walks or for contemplating the lines we make across fields and through snow."
–Ted Conover, author of The Routes of Man and Rolling Nowhere
"A sagacious walker and writer guides us on a new journey of discovery, a different kind of road trip about roads themselves and what they mean. His varied chronicle of the paths taken by those who went before us is consistently fascinating and entertaining…. With side trips to areas scarcely visited before, this is a fine guide to places with better views of the world."
–Kirkus Reviews
"This strange and delightful book combines the best elements of travelogue, science writing, and spiritual guidebook. You can find something brilliant and enlightening on every page. While Moor hikes his trail through our world, he teaches you amazing things you never imagined learning—and he's not just entertaining but actually funny."
—Amy Wilentz, author of Farewell, Fred Voodoo
"Robert Moor's primer on the history of trails is a literary gem, encompassing everything from insect travel to road-building in Colonial America. Addictive readers and knowledge junkies, however, should be careful. On Trails is a whirlpool of fact that will suck you in and not let go."
—Rinker Buck, author of The Oregon Trail
"An inspired exploration of the collective wisdom of trails. The warm, sinuous line of the narrative is its own reward."
—William Finnegan, author of Barbarian Days
"Robert Moor gets you thinking. What is the meaning of trails in human history, ecology, the journeys of life? Gary Snyder and dharma, E.O. Wilson and ants, the International Appalachian Trail? It's a sinuous route to a robust relationship between feet and landscape. Walk on."
—David Quammen, author of Spillover and The Song of the Dodo
"An old professor of mine used to say, no matter how good a book is there is always a 'however.' I don't have a 'however' with On Trails. This book is a gift to those of us who like to let our minds and feet wander. As a guide Robert Moor is deeply knowledgeable, entertaining, easy-going, erudite, and funny, leading us on a trip that winds around the world and culminates in a profound discussion of the meaning of human wisdom. He shows us that connectivity didn't start with a keyboard, but on the pathways that we created as those same pathways were creating us. With this inspiring book as your map, you can indulge in those twin passions that made us human: thinking and walking."
—David Gessner, author of All the Wild That Remains
"A beautiful thing to behold. … what a profoundly talented writer Moor is. He brings a keen essayist's eye to themes both personal and empiric; his prose is lush and lively and his analysis adroit — all making On Trails a true treat to read."
—BuzzFeed Books
"Falling into a trail trance, for Moor, opened the spigot to a torrent of questions—most of them scientific, some of them philosophical, and nearly all of them profound, provocative, and under Moor's analysis, deeply entertaining. … Little flowers of information bloom on the graceful canes of Moor's prose. He's erudite, witty, and relentlessly curious."
—Garden & Gun
"In the hallowed tradition of Robert Macfarlane, Moor's beautiful travelogue is a meditation on trails: as cultural space, as history, as intimate terrain. This is just the ticket for your big summer adventure."
—San Francisco Chronicle
"There are revelations at every turn here, from the nature of shepherding, to the vast network of ancient animal and Native American trails that underlie modern North America, to the very qualities of the best trails—durability, efficiency, and flexibility—and how we learn from them even as we move beyond them….[A] deeply informed study of nature and history of trailmaking."
—Booklist, Starred Review
"Eye-opening … a highly enjoyable read, a perfect companion to a long summer evening, whether on your back porch or at a lean-to on the AT."
—The Addison Independent
Robert Moor has written for Harper's, n+1, New York, GQ, The New Yorker, The Paris Review, and DownEast, among other publications. He is a graduate of Brown University and New York University's Arthur L. Carter Journalism School. He was awarded a Fellowship in Environmental Journalism from Middlebury College in 2011 and has won two gold medals from the International Regional Magazine Association for his magazine writing. He lives in Secret Cove, British Columbia. On Trails is his first book.