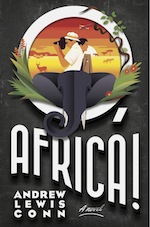 Andrew Lewis Conn
O, Africa!
(Hogarth, June 2014)
A Los Angeles Times Summer 2014 Read
In the summer of 1928, twin brothers Micah and Izzy Grand are at the pinnacle of their moviemaking careers. With the brash, bloviating Micah directing and Izzy working wonders behind the lens, they have risen from their roots as sons of Brooklyn Jewish immigrants to become kings of silent comedy. But when Micah's vices–a penchant for gambling and an interracial affair–begin to threaten his livelihood, he finds himself in need of a quick escape.
As danger looms on the horizon, the brothers' producer offers a perfectly timed opportunity: travel to Africa to compile stock footage of the exotic flora and fauna, as well as film a new comedy in the jungle. Together with an unlikely crew, the Grands set out for Malwiki, where among the tribesmen  they each discover unforeseen truths about themselves, their lovers, and the meaning of the movies.
From the piers of Coney Island to Africa's veldt, and further to the glitter of early Hollywood, O, Africa! is an epic tale of self-discovery, the constraints of history and prejudice, and the stubborn resolve for family and friendship.
"Conn, whose experimental first novel, "P," drew widespread acclaim, takes his place here as one of contemporary fiction's great word-wranglers, a novelist whose love of language in all its rolling and tumbling excess captures the bounding excess of life itself."
—Chicago Tribune
"The Grand brothers are known for their silent movies. With Micah directing and Izzy behind the camera, their comedies have been pleasing crowds for years, but in 1928, trouble looms. While the advent of talkies threatens the brothers' livelihood, Micah's interracial affair and penchant for gambling put them in physical danger, as well. With these perils lurking at home, their producer sends them to the jungles of central Africa to collect never-before-seen footage that he hopes will change the fate of their studio. Ultimately, though, it's the brothers who will be most changed by their expedition. Stretching from New York to Africa to California, Conn sets the stage for the golden age of Hollywood with carefully placed contemporaneous events, then challenges that milieu with anachronistic behavior and dialogue. The result is a satirical, heartbreaking tale of disillusionment and self-discovery that, with its Jewish filmmakers, desegregated liaisons, and homosexual awakening, takes on the state of prejudice both then and now. History aficionados may quibble about the details, but classic film buffs will be enthralled."
—Booklist
"A wildly ambitious and entertaining novel that manages to be both slapstick and deeply tragic. A lot is about to change in the summer of 1928 for moviemaking brothers Micah and Izzy Grand. The silent comedy in which they specialize is giving way to talkies, which the brothers and their financially beleaguered producer believe is a passing fad. The Roaring '20s have loosened a lot of moral strictures, including race mixing, though racism remains as rampant in America as apple pie and baseball (Babe Ruth makes an early cameo in the novel and in the movie the Grand brothers are making). And the spirit of Manifest Destiny is soaring through both the fledgling movie industry and the country at large, where the cultural axis has begun to shift from East to West. Though Micah and Izzy are twin sons of Jewish immigrants, in some ways they could hardly be less alike. Micah is impulsive and insatiable; Izzy is repressed. Micah is the director who works on the fly; Izzy is the technician and cameraman who brings his brother's vision to life on the screen. Through an unlikely combination of circumstances (plausibility isn't a major concern here)—including Micah's gambling debt, his love affair with the beautiful (and black) Rose and his producer's financial woes—the film company heads to Africa to work on multiple projects, including one on the rise of slavery (co-written by black gangsters, as payback for Micah's debt), that will provide counterpoint to Birth of a Nation. "Here they were, a gallery of misfits—a black kid, a Jew fairy, and a circus freak—halfway around the world, pulling levers on the American culture machine," writes Conn (P., 2003). The trip profoundly affects both brothers—Izzy in particular—and the Africans they encounter, for if you "[p]oint a camera at something, you change it." As a tale of two continents during a period of significant upheaval, this audacious novel encompasses not merely the essence of America and the art of moviemaking, but the nature of time. To bring this full circle, maybe the Coen brothers could adapt the vision of the Grand brothers for the big screen."
—Kirkus, STARRED REVIEW
"Andrew Lewis Conn has written a strange, cool, hilarious and oddly moving masterpiece. DeLillo and Bellow have both sunk roots into Conn's prose, but the results are uniquely his own. O Africa! is a thing of wonder."
– Gary Shteyngart, author of Super Sad True Love Story
"A wise, irresistible comedy of artists, gangsters, hustlers, brothers, lovers and kings set at the end of the era of American silent film. Andrew Lewis Conn writes with a daring, vital, great-hearted brilliance. O Africa! moves with the swiftness of light and illuminates our present moment most ingeniously."
– Mary-Beth Hughes, author of Double Happiness
"O, Africa! is one of the funniest and saddest books I've read in years. It's a tender satire of the heroic age of American film and, at the same time, a heartbreaking portrait of two brothers. [Conn] writes with a Bellowesque vigor that cranks the story into flickering, shimmering life."
–Paul La Farge, author of Luminous Airplanes
"[As] O, Africa! charts an exciting new course, the author remains as he was: besotted by the movies and drunk on words."
–Ed Park, author of Personal Days