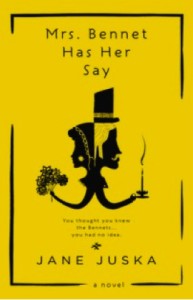 Jane Juska
Mrs. Bennet Has Her Say
(Berkley Books, August 2015)
You thought you knew the Bennets…you had no idea.
It is a truth universally acknowledged that every man in possession of a wife must be in want of a son.
1785 was to be the most marvelous year of Marianne's life, until an unfortunate turn of events left her in a compromised state and desperate for a husband to care—or rather cover—for her.
Now, stuck in an undesirable marriage to Mr. Edward Bennet, who is desperate in his own way for a male heir, and still carrying a smoldering desire for the handsome Colonel Miller, Mrs. Bennet must find ways to avoid her husband's lascivious advances until she is once again reunited with her dashing Colonel. Except that the best laid plans of a woman in good standing can so often go awry, especially when her contrary husband has plans and desires of his own…
Filled with audacious wit and hilarious surprises, this debut novel is an honest, smart, and satirical look at love, marriage, and the beloved Bennet family from Jane Austen's PRIDE AND PREJUDICE, as you've never seen them before.
Praise for A Round-Heeled Woman
"Fiesty, charming, moving and wise, this page-turner of a memoir proves that life for a woman—sexual and otherwise—hardly stops at thirty-nine."
—Cathi Hanauer, editor of The Bitch in the House
"Juska has a good sense of humor."
—Liz Smith, New York Post
"Juska writes well about the sex…but even better about the seductions, which take on the luster of years served. Expressive and touching: readers will be rooting for Juska to get all that she wants."
—Kirkus Reviews
"There's something universal in [Juska's] love affair with the written word."
—Publishers Weekly
"[A] thoroughly engaging memoir…Refreshingly honest, remarkably candid."
—Bo
Jane Juska was born in 1933 and educated at the University of Michigan and the University of California at Berkeley. She was a teacher of English in high school for over thirty years, in college for five and in prison for five. Her memoir, A ROUND-HEELED WOMAN, about her late-life adventures in love and sex, was both a San Francisco Chronicle bestseller and a national sensation that led to televised appearances with Charlie Rose, Bill O'Reilly and others. It was also the inspiration for a theatrical production starring Sharon Gless that was performed in the United States and London. Juska's essays have appeared in Vogue, Self, Good Housekeeping, Redbook, Huffington Post and online at Byliner and Shebooks. She is also the author of a second memoir, UNACCOMPANIED WOMEN, and lives in Chester, California. MRS. BENNET HAS HER SAY IS HER debut novel.