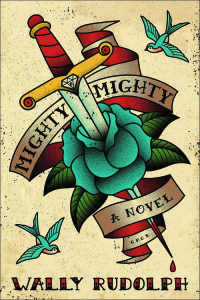 Wally Rudolph
Mighty, Mighty: A Novel
(Soft Skull Press, October 2015)
Mighty, Mighty is a modern day fable set in a crumbling metropolis riddled with urban poverty and violence. Dirty apartments, tattoo parlors, food kitchens – these are the markers of home for the struggling young adults around Chicago. Stefy is an artist at Ghost Town, the local tattoo shop, trying to provide for her younger sister Amanda and their ailing grandfather. Amanda is hoping for something better, seeking to escape a past riddled with addiction and an abusive relationship with Georgie. When he confronts her one drunken night at a dive bar, the situation turns violent: Amanda barely escapes with her life but Georgie lies dead on the bathroom floor. This one mistake puts the two sisters in the crosshairs of Georgie's father, a twisted, corrupt ex-cop now out for revenge over the murder of his son. His quest for vengeance will make the neighborhoods of Chicago tremble, leaving no one untouched.
Mighty, Mighty is a harsh and realistic look at the struggle of two families desperately trying to get out from under the heavy boot of violence and poverty. Like the works of Richard Price and Dennis Lehane, the novel is a startling and accurate portrait of contemporary urban life.
​Praise for Mighty Mighty
"Within the pages of Mighty Mighty, questions about class, race, justice, parenthood, siblinghood, friendship, sexuality, escapism, faith, honor, responsibility, and fate appear constantly and without reservation.  The text shows no fear or reluctance in showing the foul sides of its characters and of its setting.  The story presents itself in effective language that is meant to put the gravity of the circumstances in the most direct terms.  And amidst this stoic delivery,  achieves its most impressive feat: it never insists upon itself. "
—John Venegas, Angel City Review​
"A masterful sophomore effort (following the success of Rudolph's Four Corners), Mighty, Mighty is a love story of human detritus in concrete jungles, intricately inked into a scarred, yet majestic tattoo. Fans of Barry Hannah, Daniel Woodrell, Denis Johnson, and Pedro Juan Gutiérrez will find it hard to put this novel down."
—Robert Paul Moreira, ​Los Angeles Review of Books
"Wally Rudolph's depictions of Chicago are stark and unsettling, but his characters are authentic and impossible to forget. This is a finely crafted novel, rhythmic and flowing, from a writer to watch."
—BookRiot
"A fast-paced yarn…Rudolph has a knack for crafting characters striving for recovery—from drugs, violence, and poverty. There is much to admire in Rudolph's prose."
—Publishers Weekly
"Mighty, Mighty is a gem: dark, hard, and filled with surprising beauty. It is also noir as hell, filled with the kind of people you always worried were down at that bar on the corner, waiting to turn on you."
—Tod Goldberg, author of Gangsterland, Finalist for the 2014 Hammett Prize
"Mighty, Mighty is a hard-boiled hat trick of a novel: a searing family drama, a gripping crime thriller, and a raw, unflinching portrait of lives lived on America's violent edge."
—Scott O'Connor, author of Half World and Untouchable
"Rudolph writes with personality, each page tattooing itself straight on your brain. Mighty Mighty has voice, that elusive, unteachable, and beautiful trait."
—Joshua Mohr, author of All This Life
"Mighty Mighty lets it all hang out, a boldly affecting story written with flow and swagger, like the best hip-hop."
—Mark Haskell Smith, author of Raw: A Love Story
"A wild, violent ride of a page turner, Mighty, Mighty is also a thoughtful contemplation on how we love and grieve. A beautiful book that wears its messy, empathetic heart on its sleeve."
—Rob Roberge, author of The Cost of Living
Read the Angel City Review of Mighty, Mighty
Read about Mighty, Mighty on BookRiot's Books to Watch for in October
​Read the Alex Segura Stuff & Nonsense interview with Wally Rudolph ​
Read about Mighty, Mighty in the Chicago Tribune
​Read about Mighty, Mighty in Newsday​
​Read the Los Angeles Review of Books review of Mighty, Mighty
Listen to Wally Rudolph on The Los Angeles Review of Books​ ​Radio Hour
​Born in Canada to Jamaican immigrant parents and raised in Texas, ​​Wally Rudolph smoked marijuana for the first time at the age of fourteen. The joint, rolled from the Book of Revelations of a pocket sized Bible, was the start of a fifteen year affair with illicit drugs that took him back and forth across the American Midwest. Along the way, he studied fiction and poetry with Jack Butler, Pulitzer finalist for Living in Little Rock with Miss Little Rock, and Walt Whitman Award Winner and former NEA fellow, Greg Glazner.
As an actor, he has appeared in numerous films and TV shows, including Street Kings, Bang Bang, Sons of Anarchy and most recently, Hawaii 5-0. More of his fiction can be found in the literary journals, Lines+Stars, Palooka, The Brooklyner, and Prospect Park Books 2013 Fiction Anthology, Literary:Pasadena, among others. His debut novel, Four Corners (Counterpoint/Soft Skull), was published in 2014.
He currently resides with his family in Los Angeles where he continues his education in the finer points of fuckery with some of the finest assholes in the world.​