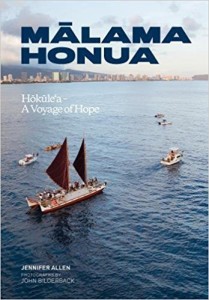 Written by Jennifer Allen
Photographs by John Bilderback
Mālama Honua: Hōkūle'a—a Voyage of Hope
(Patagonia, October 2017)
Chosen as one of Honolulu Magazine's "29 Must-Read Local Books You Won't Want to Put Down This Holiday Season"
From the launch in Hawai'i in May 2014, around the world 60,000 miles, to 23 different countries, this beautiful hardcover book chronicles Hokule'a's epic mission to raise awareness of and nurture worldwide sustainability.
Interwoven with descriptions of Hokule'a's experiences in port are the voices of the master navigators and crew members, who guide the ship along the ocean's trackless path using only stars, birds, wind, and seas — non-instrumental wayfinding techniques– and the local pioneers — scientists, teachers, and children touched by Hokule'a' — who work tirelessly to weather the many environmental challenges in our modern lives. This is a story about our need to draw together into one global community. By respecting one another and nature's delicate and intricate systems, this book captures the many ways indigenous cultures are committed to living in ecological balance.
Praise for Mālama Honua: Hōkūle'a—a Voyage of Hope
"Allen's achievement is considerable. Egoless but omnipresent, writing in precise yet warm language, she paints a you-are-there picture of each arrival in a new port."
– Honolulu Magazine
Jennifer Allen is the author of a collection of short stories, Better Get Your Angel On published by Alfred A. Knopf (1989), and a memoir, Fifth Quarter: the Scrimmage of a Football Coach's Daughter, Random House (2000). As a journalist, her writing has appeared in Rolling Stone, the New York Times Magazine, The New Republic, George, ESPN.com, and PLAY.  Her personal essays have been anthologized in Because I Said So, Paris On The Mind, and The Library of America's Football, Great Writing About the National Sport." She has also written for HBO's ARLI$$ and was an on-air reporter for NFL Network and Emmy Award-winning NFL Films.