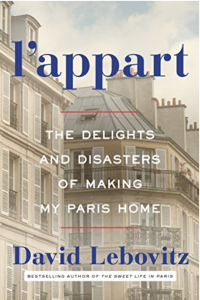 David Lebovitz
L'Appart: The Delights and Disasters of Making My Paris Home
(Crown, November 2017)
One of Departures' "6 New Memoirs to Read This Fall"
One of Eater's "Best Food-Focused Memoirs of Fall 2017"
One of NPR's "Best Books of 2017"
One of Read it Forward's "Favorite Reads of November 2017"
Bestselling author and world-renowned chef David Lebovitz continues to mine the rich subject of his evolving ex-Pat life in Paris, using his perplexing experiences in apartment renovation as a launching point for stories about French culture, food, and what it means to revamp one's life. Includes dozens of new recipes.
When David Lebovitz began the project of updating his apartment in his adopted home city, he never imagined he would encounter so much inexplicable red tape while contending with the famously inconsistent European work ethic and hours. Lebovitz maintains his distinctive sense of humor with the help of his partner Romain, peppering this renovation story with recipes from his Paris kitchen. In the midst of it all, he reveals the adventure that accompanies carving out a place for yourself in a foreign country—under baffling conditions—while never losing sight of the magic that inspired him to move to the City of Light many years ago, and to truly make his home there.
Advance Praise for L'Appart
"Written in a lighthearted style with healthy dashes of satire, wit, and humor…. an engaging, entertaining, and delicious divertissement."
– Kirkus Reviews
"Lebovitz's stories shimmer with despair, distress, and regret, but he nevertheless embraces life with all its flaws in the city he loves."
– Publishers Weekly
"David Lebovitz hilariously recounts the ups and downs of buying an apartment in the City of Light. Readers will relate to Lebovitz's exploits, from Ikea fails to bureaucratic foibles."
– Real Simple
"Typically charming and occasionally a touch risqué… Vicariously, he serves quite a feast."
– The Christian Science Monitor
Read the Publishers Weekly review of L'APPART
Read David Lebovitz in conversation with Justin Spring on FSG Work in Progress
Read The Christian Science Monitor review of L'APPART
David Lebovitz answers "8 Great Questions" for Read It Forward
Listen to David Lebovitz in conversation with The Simply Luxurious Life
Read David Lebovitz's list of "8 Things [he] Can't Cook – or Live – Without" for Epicurious
Listen to David Lebovitz in conversation with Food Republic
David Lebovitz has been a professional cook and baker for most of his life; he spent nearly thirteen years at Berkeley's Chez Panisse until he left the restaurant business in 1999 to write books. He is the author of six books, including My Paris Kitchen, The Perfect Scoop, and The Sweet Life in Paris. David has been featured in Bon Appétit, Food & Wine, Cook's Illustrated, the Los Angeles Times, Saveur, Travel + Leisure, the New York Times, and more. He moved to Paris in 2004 and turned davidlebovitz.com into one of the first phenomenally popular food and living blogs.