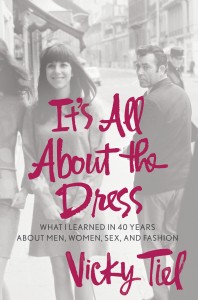 Vick Tiel
It's All About The Dress
(St Martin's Press, July 2011)
Vicky Tiel, an "It" girl of the 1960's, created a forty year career in Paris and New York designing clothes that make movie stars and real women all look fantastic. From designing kooky outfits for Woody Allen's first film "What's New Pussycat?" (1965) to dressing "Cleopatra"-era Elizabeth Taylor in her caftans, Vicky Tiel has done it all. Her own life was just as exciting—dancing the night away at Castels in 1960's Paris, partying with Peter Sellars in 1970's , and almost drowning on Elizabeth Taylor and Richard Burton's yacht in the stormy Mediterranean. Vicky Tiel tells tales from her own glamorous life and the hard-won wisdom she has learned about men, women, and living life to the fullest. Gossipy, irrevernt, and wise, It's All About the Dress is delicious and utterly fun to devour.
"The original purveyor of the miniskirt and Elizabeth Taylor's caftan unravels fabulous, chatty tales of her early success in the 1960s as a young American fashion designer in Paris. A student of Parsons School of Design in Manhattan, Tiel became known around Greenwich Village as Peaches LaTour for her original, thrift-store, bohemian look (leather mini, lace stockings, boots), creating sexy looks that delighted her boyfriends but shocked the establishment. Along with a well-connected schoolmate, Mia Fonssagrives (stepdaughter of Irving Penn), Tiel aimed to take Paris by storm, and they did, within a few months of arriving in 1963, with the help of former top model Dorian Leigh (aka Holly Golightly) and fashion designer Louis Féraud. From doing the costumes for movies like What's New, Pussycat? ("Ursula Andress taught me the power of a dress") to dressing Elizabeth Taylor for more than 20 years, Tiel was the "it" girl. By turns nutty and tender, she offers priceless anecdotes about Liz and Richard, Romy Schneider and Alain Delon, Woody Allen, Warren Beatty, hippies, and dating married men."
–Publishers Weekly