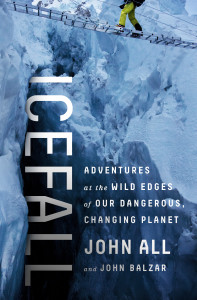 John All and John Balzar
ICEFALL: Adventures at the Wild Edges of Our Dangerous, Changing Planet
(Public Affairs, March 2017)
In May 2014, the mountaineer and scientist John All plunged into a crevasse in the Himalayas, a fall that all but killed him. He recorded a series of dramatic videos as he struggled to climb out of the icy tomb to the surface, seven stories up, with fifteen broken bones—including six cracked vertebrae—internal bleeding, a severely dislocated shoulder, and a battered face covered in blood. The videos went viral, shown on newscasts across the world and every website imaginable.
Yet this brush with death is only the latest of John All's adventures. He has also won a footrace for his life against a wild hyena, stepped on a black mamba in the African bush, and scaled Everest, all in pursuit of his true calling: the study of how we can adapt to our world's changing climate. Icefall is a thrilling adventure story and a report from the extremes of the planet, taking you to collapsing Andean glaciers, hidden jungles in Honduras where native people have learned how to survive hurricanes, and the highest points on earth. The result is a gripping adventure memoir with profound lessons for how humans will adjust as our world continues to change beneath our feet.
John All is a research professor of mountain environmental science at Western Washington University and executive director of the American Climber Science Program. He is a Fulbright scholar and a lifetime fellow of the Explorers Club in New York City.
John Balzar is the author of Yukon Alone, a Los Angeles Times Best Book of the Year, and an award-winning newspaper journalist. His adventure writing has taken him from the icy north to the deep ocean.
Find out more about John All and the American Climber Science Program