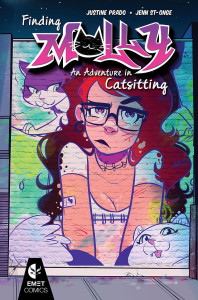 Justine Prado (writer), Jenn St-Onge (artist) and Carey Pietsch (colorist), produced by Emet Comics
Finding Molly: An Adventure in Catsitting
Tapas Media, January 2017
Finding Molly is the story of recent art school grad MOLLY, currently living at home with her parents, and trying to resurrect her dreams of becoming a true artist. Her friends live in Downtown LA in the up and coming Arts District, sharing cool lofts in the same funky, old building. Molly is desperate to live there, but is having a hard time catching up. As they are building their own lives as artists, she's stuck living in her family's suburban home. She lacks inspiration, and Molly is worried she has lost her artistic voice. The only creative endeavors she's mastered recently are technically perfect sketches of her mother's cantankerous cat. But these sketches lead to an opportunity to cat-sit in the city for a wealthy family. This window to freedom excites Molly, and soon enough she begins to find success… as a cat sitter. But that's just the start of Molly's journey, and these pain-in-the-ass, furry monsters become her muses in the oddest of ways.
Justine Prado is a Los Angeles based feature and television screenwriter, playwright, and cat lady. A native of the San Francisco Bay Area, she holds a BFA from the Academy of Art University and an MFA from the University of California, Los Angeles. Since making the jump from NorCal to SoCal, she co-produced the UCLA Film Festival, has seen the premiere of her play The Wait'll Kill You produced, and worked on the hit television series Weeds. Before her film, television, and comic book writing careers, Justine was a theatre geek, an adequate musician, and a subversive political activist. When she's not writing or fighting the good fight, she's spending time with her cat, Thriller, who enjoys eating shoelaces.
Jenn St-Onge (alias "Princess Jem") is a Canadian illustrator/comic artist who graduated in 2012 from Seneca College's Independent Illustration program. With work that has a strong focus on diverse characters and promoting positive self-awareness, she has made a name for herself with her body positive portfolio. While Jenn has worked in children's literature, logo designs, and book covers, her true love has to be comics and character design. She currently lives just outside on Toronto, Ontario, with her husband and their five kitties.
Carey Pietsch is a cartoonist, colorist, and illustrator based in Brooklyn, NY. Most recently, she was the artist on Adventure Time: Marceline Gone Adrift as well as Lumberjanes issues #21-24. When she's not freelancing, she's making Keepsakes and other original comics about magic and empathy.