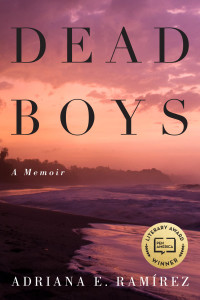 Adriana E. Ramírez
Dead Boys: A Memoir
(Little A, November 2016)
Winner of the inaugural PEN/Fusion Award for Emerging Writers
Seven brave essays about death, healing, and family.
What can we learn from the haunting tragedy of a young boy gunned down by a vengeful loan shark, or from a camouflaged corpse washed up on a beach, or the nine bodies hanging from a bridge? Is it any different than what we can learn from the heartbreaking death of the author's own brother in a childhood horse-riding accident? Written with brutal honesty and extraordinary respect, Dead Boys announces the debut of a powerful nonfiction writer possessed by striking empathy and strength. In these linked essays, Adriana E. Ramirez examines the universal tragedy of a mother losing a son, and gives voice to the grief and experience that is often obscured in media reports of the drugs wars.
By confronting the memory of the dead boys the author has encountered in her life, as she has moved back and forth between Colombia, Mexico, and the United States, Ramírez attempts to make sense of the senseless. Through her unflinching and poetic examination of drug violence, Dead Boys attests to the fragility of life, even while exploring the harsh mechanisms of narco trafficking.
Adriana E. Ramírez is a Mexican-Colombian writer, digital maker, and performance poet based in Pittsburgh. She won the inaugural PEN/Fusion Emerging Writers Prize in 2015 for an early draft of Dead Boys, and in 2016 she was named Critic at Large for the Los Angeles Times Book Section. Her essays and poems have also appeared in the Los Angeles Review of Books, Guernica/PEN America, Convolution, HEArt, Apogee, and on Nerve.com. Once a nationally ranked slam poet, she cofounded the Pittsburgh Poetry Collective and continues to perform on stages around the country. She was recently featured in the 2014 Legends of Poetry Slam Showcase and in TEDxHouston, as well as in the 2016 Three Rivers Arts Festival. In 2013, she and novelist Angie Cruz founded Aster(ix) Journal, a literary journal giving voice to the censored and the marginalized. She is a member of the English faculty at the University of Pittsburgh.