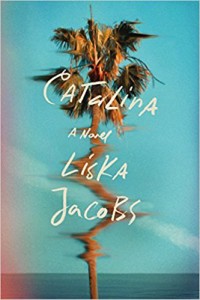 Liska Jacobs
Catalina
(MCD/FSG, November 2017)
A Powell's Staff Pick 
One of HUFFPOST's "28 New Fiction Books To Add To Your Must-Read List This Fall"
One of Lit Hub's "The Ultimate Preview: The Most Recommended Books of Fall"
One of Pop Sugar's "12 Must-Read Books of November"
One of Entertainment Weekly's "14 Books to Read in November"
One of ELLE Magazine's November "Trust Us" Book Picks
One of W Magazine's "Love Letters to Michelle Obama, a Biography of Stevie Nicks, and the 8 Other Books to Read Right Now"
One of Chicago Review of Books's "Best New Books of November 2017"
One of ELLE Magazine's "6 Best Books to Read Right Now"
A magnetic, provocative debut novel chronicling a young woman's downward spiral following the end of an affair
Elsa Fisher is headed for rock bottom. At least, that's her plan. She has just been fired from MoMA on the heels of an affair with her married boss, and she retreats to Los Angeles to blow her severance package on whatever it takes to numb the pain. Her abandoned crew of college friends (childhood friend Charlotte and her wayward husband, Jared; and Elsa's ex-husband, Robby) receive her with open arms, and, thinking she's on vacation, a plan to celebrate their reunion on a booze-soaked sailing trip to Catalina Island.
But Elsa doesn't want to celebrate. She is lost, lonely, and full of rage, and only wants to sink as low as the drugs and alcohol will take her. On Catalina, her determined unraveling and recklessness expose painful memories and dark desires, putting everyone in the group at risk.
With the creeping menace of Patricia Highsmith and the bender-chic of Bret Easton Ellis, Liska Jacobs brings you inside the mind of an angry, reckless young woman hell-bent on destruction―every page taut with the knowledge that Elsa's path does not lead to a happy place. Catalina is a compulsive, deliciously dark exploration of beauty, love, and friendship, and the sometimes toxic desires that drive us.
Praise for Catalina
"The narrative tone of Jacobs' debut echoes the numbed nihilism of Bret Easton Ellis's early work, and her protagonist is just as lovely a person as his infamous characters. For those who appreciate the joys of a vicarious bender and the satisfaction of watching creepy people decompensate."
–Kirkus Reviews
"One hell of a read. Liska Jacobs's raw talent elevates this story of self-annihilation, never letting it veer into maudlin territory, but keeping it firmly on track for true pathos. Now that I've finished reading it, I find myself unable to concentrate on other books — Catalina cauterized me."
–Recommended By Lauren P., Powells.com
"Catalina is an extraordinarily engaging study in the tension of opposing forces: youth and world-weariness, beauty and unreliability, good intentions and roads to hell. The backbone of the novel is its relentless unwillingness to apologize for its main character—not for her faults, not for her complexities. Hot damn and about time. Liska Jacobs writes with teeth; this book's got bite."
–Jill Alexander Essbaum, New York Times-bestselling author of Hausfrau
"Catalina's feminist fatale narrator, Elsa, has both the heartbroken cynicism of Daisy Buchanan and the inscrutable seductiveness of Carmen in The Big Sleep. Liska Jacobs writes crystal-clear, hypnotically sensual prose, and Catalina is California noir at its darkest and sharpest."
–Kate Christensen, author of The Great Man and In the Drink
"In her propulsive debut, Liska Jacobs tells the story of a beautiful young woman's dissolute downward spiral with precision and insight. Catalina deftly explores the desperate social frontiers where the morals of the privileged class dissolve. You won't be able to look away."
–J. Ryan Stradal, New York Times-bestselling author of Kitchens of the Great Midwest?
"Catalina is true California, down to the bones and skin, a novel about the places Liska Jacobs knows in her soul. Beauty and the body as currency and betrayal, seekers of love and comfort—her characters blow all that up, and just when you think you know what will happen, Catalina swerves and you are along for the ride."
–Susan Straight, author of Between Heaven and Here and Highwire Moon
"Sophisticated and surprising, Catalina brings an excitingly modern vibe to the time-honored story of a young woman coming undone in California. Like a love child of Joan Didion and Kate Braverman, Liska Jacobs is a master of menacing cool and the seductive havoc wreaked by self-destruction."
–Gina Frangello, author of A Life in Men and Every Kind of Wanting
"Bold debut novel…"
—Publishers Weekly
"Jacobs's descriptions were so on point I felt like I was vacationing right next to Elsa, sharing in her woes and witnessing her downfall, unable to help."
—Dwarf + Giant
"Catalina is a novel of the dark side of the City of Angels told with spirited and intense prose."
– Bruce Jacobs, Shelf Awareness
"Jacobs swings for the literary fences. Elsa's story in Catalina has all the inevitability of Emma Bovary's and Anna Karenina's with all the darkness of Charles Bukowski and Bret Easton Ellis….Catalina is just fun—Elsa's recklessness makes for a delectably exciting ride—and, if you like your fiction dark, it is deeply satisfying."
– LALA Magazine
"Dark yet delicious…"
– Book Riot
"If noir lit with a feminist twist appeals, treat yourself to Liska Jacobs's magnetic debut novel, Catalina."
– ELLE Magazine
"Bad things are going to happen. Jacobs' taut, suspenseful writing keeps the reader anxious and disturbed and yet still completely unprepared for the shocking ending. Comparisons to California noir and Joan Didion's painful and profound truths about loneliness, relationships and the passage of time are inevitable. Jacobs' world also conjures up memories of another Los Angeles author, Bret Easton Ellis, and his debut novel and '80s classic "Less Than Zero," the story of a disaffected college student who returns home to Los Angeles for a winter break filled with drugs, prostitution, one-night stands with men and women, and disillusionment. But Jacobs' view and voice are definitely her own. [Catalina] has a quiet desperation, compelling and evident even before page one, beginning with that cover image: the stark, staticky SoCal landscape and the hint of a shadow."
– Allison K. Hill, Los Angeles Daily News
"In Catalina, Jacobs tracks, with a sense of inevitability, the fallout of a woman with the audacity to make her own mistakes."
– Agatha French, Los Angeles Times
"Rich with a prickling sense of menace, Catalina is an intoxicating psychological thriller that will set readers on edge from page one."
–Stephenie Harrison, BookPage
"Jacobs's prose has the effect of a stingray's poisonous barb: it enters easily but is difficult to remove. Her writing moves with the rush of whipping rapids, often without so much as an adjective to weigh it down."
– Holiday Reinhorn, Los Angeles Review of Books
Read the Los Angeles Times interview with Liska Jacobs
Read the Powell's Staff Pick Write-Up for CATALINA
Read the Publishers Weekly review of CATALINA
Read Liska Jacobs in conversation with Mackenzie Kiera for Dwarf + Giant
Read the Dwarf + Giant review of CATALINA
Read the LALA Magazine review of CATALINA
Included on Book Riot's "November Horoscopes and Book Recommendations"
One of Bookstr's "Find Your Next Read Based on Your Zodiac Sign"
Read the Los Angeles Daily News's review of CATALINA
Included in W Magazine's "Love Letters to Michelle Obama, a Biography of Stevie Nicks, and the 8 Other Books to Read Right Now"
Included on Chicago Review of Books's "Best New Books of November 2017"
One of The Orange County Register's must-reads for fall
Read Liska Jacobs's essay "A Tribute to Women on the Edge" for Chicago Review of Books
Read the Electric Literature interview with Liska Jacobs
Read the BookPage review of CATALINA
Read Liska Jacobs's picks for "10 Essential Books That Capture Los Angeles in All Its Sublime, Beautiful Darkness" for LitHub
Read Paul Semel's interview with Liska Jacobs
Read Liska Jacobs in conversation with Linde B. Lehtinen for FSG Work in Progress "Taking Back the Narrative"
One of BookPage's "All Aboard the Hot Mess Express"
Listen to The Talking Book Podcast interview with Liska Jacobs, Episode #8
Read the Los Angeles Review of Books review of CATALINA
Listen to Liska Jacobs discuss CATALINA on the LARB Radio Hour
One of Skylight Books's 2017 Holiday Catalog gift picks
Listed on Dwarf + Giant's "Book-Gifting For Your Wacky Family" 2017
Listed on Parnassus Books's "The BIG 2017 Gift List! (Part 1: For Grown-Ups)" under For Fiction Readers
Read the Coachella Valley Weekly review of CATALINA
Listen to OTHERPPL's interview with Liska Jacobs 
Liska Jacobs is a graduate of the UCR MFA program in Palm Desert and lives in Los Angeles. Her essays and short fiction have appeared in The Rumpus, Los Angeles Review of Books, Literary Hub, The Millions, Hairpin, The Nervous Breakdown and elsewhere.