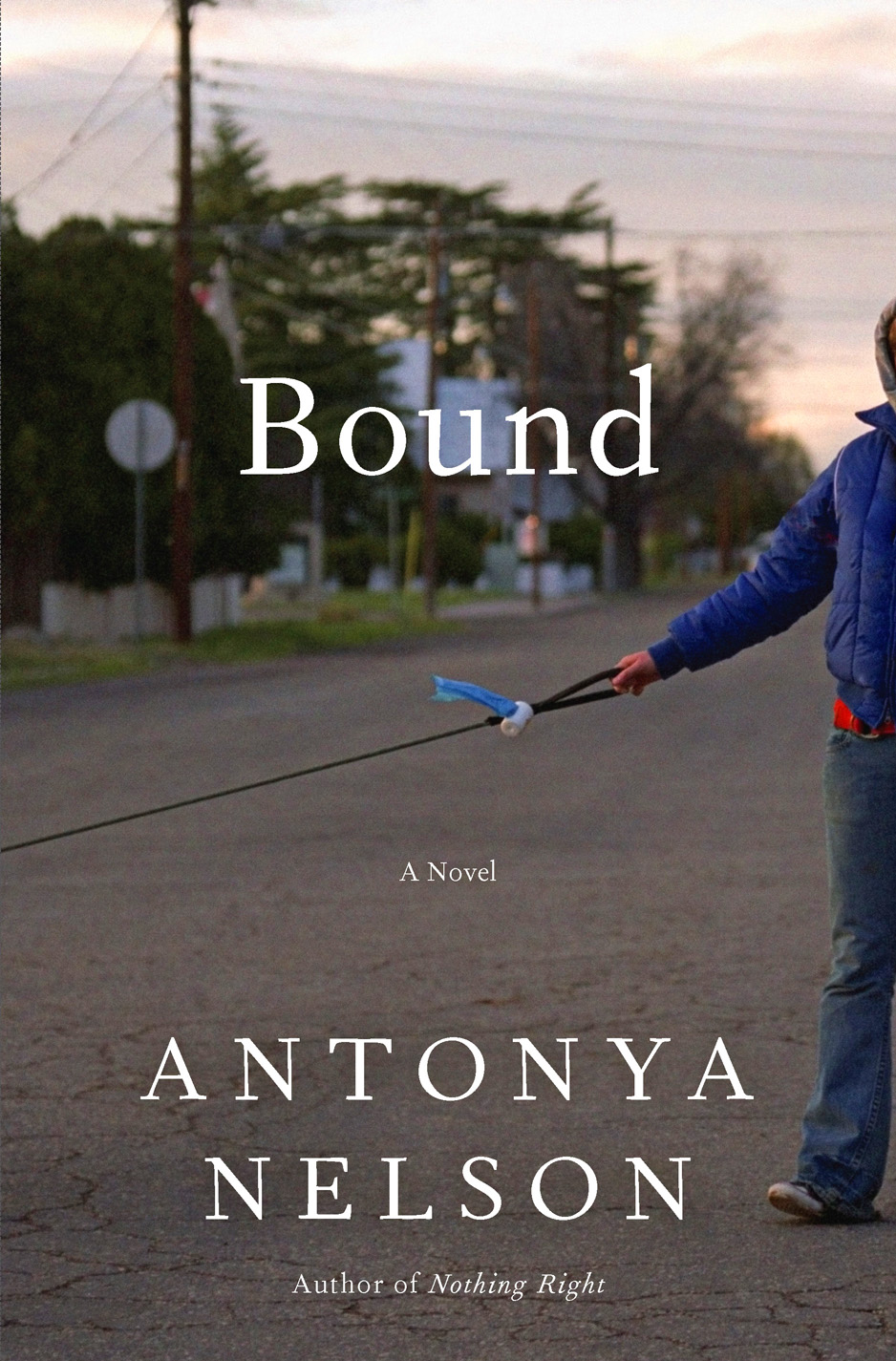 Antonya Nelson
Bound
(Bloomsbury, November 2010)
Kirkus's Best of 2010
New York Times Notable Book 2010
"If you take an exit off a Midwestern highway and drive through a square-gridded prairie town, you might think there's nothing much going on, nothing to see but the 7-Eleven and the high school, nothing to do but gas up, get biscuits and gravy at the diner and movie on. But in her new novel, 'Bound', set mostly in Wichita, Kan., Antonya Nelson compels you to linger, makes you take in the shimmer of the long gray highway beside the strip malls, the promise and punishment of the steely blue sky. This America is her stage, and its characters are her people. Raised in Wichita, Nelson carries regional secrets in her internal map–the nameless back roads and hidden lakes a stranger wouldn't even know to look for.
In 'Bound', her 10th book of fiction and her fourth novel, set in 2004 and 2005 but also reaching back three decades, Nelson returns a girlish, complacent Wichitan named Catherine Desplaines to the ferment of her 'careless and careening' adolescence. Although she's in her early 40s and long married to a preening local businessman a quarter-century older than she is (she's his third wife, and not necessarily his last), Catherine still feels 'nagged by teenage unease' when she looks in the mirror. Like the character in Nelson's story 'Female Trouble' who thinks, 'Now that he'd become one it surprised McBride how few adults were grown-ups,' she's caught in an eternal seventh grade. As a teenager, she rebelled against her intellectual, imperious mother and her mild, liberal father by taking up with a reckless girl called Misty Mueller, who lived with her crabby, drunken grandmother in a disorderly household three doors down from where a serial killer had struck. The killer was known as BTK, shorthand for murder method: bind, torture, kill.
In high school, Catherine and Misty had played dangerous games, trawling for men over the telephone or at the bar in the lodge of the Fraternal Order of Police, shoplifting, doing coke and Ecstasy, getting drunk, carving matching marks into their skin. Her mother called Misty 'the Bad Influence,' and even her friend's impulse to seek 'more danger, more brutality, selecting, it seemed, against safety.' But even when Catherine outgrew Misty and married Oliver Desplaines (another rebellion against her feminist mother), she continued continued to admire her friend's peculiar brand of integrity: 'Mist wouldn't lie, she wouldn't pretend, she wouldn't veer. She would not buckle to parents or teachers or men at bars. She was fearless, loyal, in love with intoxication, adventure, a challenge, prepared always to say yes.'
At 16, it hadn't been as clear to Catherine why 'yes' wasn't always a good idea, but later she recognized 'how lucky she was to have survived her own incautious past.' 'One run red light,' she tells herself, 'one inexplicable pill, one bad man, one unforgivable decision, and everything would have turned out otherwise.' It did, eventually, for Misty, but not for the reasons Catherine supposed.
Like so many of Nelson's strongest characters, Misty could be the heroine of a Lucinda Williams song. She's a fierce, self-thwarting, 'unpretty woman,' solitary but passionate, someone who might boast that she'd change the locks on her front door and 'the tracks underneath the train' to keep a bad man away, but who would fling open her door, heart racing, if she heard his truck roll up the gravel drive. She's someone who might step out of a car on the side of the road and leave her lover 'if only for a minute or two' to 'see what it feels like to be without you'–not wanting to be abandoned, but yearning to set her own path even if it leaves her broken and alone.
Broken and alone is exactly what Misty is at the outset of 'Bound'. Her car has been hurled off a Colorado mountainside where she lies dead amid snow-capped mountains and radiant clouds, a 'simmer red sun sinking behind,' a book on tape rumbling on, unheard. Misty didn't drive off the road on purpose; she wasn't drunk; she hadn't been left by a lover. She'd cleaned up her act since leaving Wichita. She'd had a daughter, become a wealthy realtor in Houston, grown up. Yet she'd recently assured her own abandonment by sending that diffident daughter, Cattie, away to boarding school. Hiding her loneliness from her only child, she'd tried not to be the one who phoned most, a power game Nelson calls 'loser caught caring.' The separation drives them both off course, in Mist's case, fatally.
Back in Wichita, while visiting her mother in a nursing home and watching news reports about BTK's re-emergence after a long absence, Catherine comes across a forwarded letter, addressed to her. Opening it, she learns that Misty has died and named her the legal guardian of her daughter, whose existence Catherine hadn't suspected and whose name she shares. She ponders the connections, 'pins on a map, coincidences and repetitions, tenuous links, Catherine the 15-year old girl: herself then, and someone else now.'
At first, she resists the idea that the map is her map. Catherine is childless; her husband, with two difficult daughter from his previous marriages, hadn't wanted more children, and Catherine hadn't objected. Speaking with her husband's lawyer, she ducks responsibility for Misty's girl. 'We don't really know this woman,' she tells him. 'I mean, it's been years.' But when she looks at pictures of the girl, she sees her old friend reincarnated: "the basset hound look, the half-lifted lip,' the eyes 'straightforward and challenging.' 'This girl in the photos might as well have been Misty.' Carrie, who's as willful and headstrong as her mother, has run away from her boarding school, gone on the road with a dog named Bitch. If Catherine doesn't find and claim her, who will?
It's a liberation to read Nelson here in the long form. There's no question of her superlative gifts for the short story. Only last year she published an exceptional collection (her sixth), 'Nothing Right', which drew into its span her familiar subjects: love affairs, rivalrous siblings, wayward adolescents, unwanted sex, unwanted pregnancies, alcoholism, complicated idealism, car crashes, doomed dogs, mental illnesses–all united by strangely durable loyalties; the scarred, truthful topography of the American landscape. Any faithful reader of Nelson will pick up echoes in 'Bound' of several stories in that last collection ('Kansas', 'Party of One', 'DWI') as well as older stories like 'Mud Season' and 'Looking for Tower Hall', from her first book 'The Expendables'.
But the most striking and felicitous resonance comes from 'Incognito', a story in her 2002 collection, 'Female Trouble'. There, in two dozen pages, the mother of a teenage daughter recalls her wild girlhood in Wichita, when she and her foolhardy posse invented an alter ego named Dawn Wrigley to lure college boys and cops into sexual encounters. 'You can live a second life under your first one,' the story begins, 'something functioning covertly like a subway beneath a city, a disease inside the flesh. I did once for several years.' That tantalizing opening made readers long for the characters to be revealed and defined in a broader panorama. In 'Bound', Nelson makes her story as big as it should be, and gives her characters room to run."
–The New York Times Book Review
"A dying marriage is at the heart of Antonya Nelson's fourth novel, but the unnerving details — the low hum of news about a serial killer who has resurfaced; dogs lost, found and preternaturally knowing — cast an eerie shadow on the domestic drama. Catherine, rootless and childless in Wichita, Kan., reconnects with her lost past when a nearly forgotten high school friend is killed in a car crash and has asked that Catherine look after her teenage daughter. Meanwhile Catherine's much older husband, Oliver, is having an affair, the latest of his efforts to stay young. In Ms. Nelson's world new beginnings are hard won and often costly. "To realize how lucky she was to have survived her own incautious past always sent a shudder through Catherine," she writes. But the novel ends with these words: 'You could change your life.'"
–The New York Times
"Bound examines the powerful pull of family, the value of loyalty, and the surprisingly durable bonds of friendship. Told in nuanced prose, Bound has all the suspense of a mystery novel balanced by the soulful characterizations and piercing psychological insights of a literary work."
– Critical Mob
"Driving alone with her dog, Misty Mueller is in a one-car accident. The dog escapes the overturned car and is adopted by a young woman camping nearby, but Misty, a single mother, dies. When her 15-year-old daughter Cattie gets the news, she runs away from her Vermont prep school. After hiding briefly in Montpelier, she sets off on a cross-country road trip with a troubled but sweet-natured Army deserter and his dogs. In Wichita, Kan., Misty's childhood friend Catherine has completely lost touch with Misty. In her late 30s now and married to Oliver, a successful, much older entrepreneur with two grown daughters from previous marriages, Catherine is oblivious when Oliver follows the pattern he previously established to exit his first two marriages by beginning an affair with an even younger woman. Without children of her own or a real career, Catherine expends her energy caring for her mother Grace, a former professor who has suffered a stroke. Grace's mental acuity remains intact despite her inability to speak, and she remains hurtfully critical of her daughter's passivity and lack of ambition. Then Catherine learns that she has been named Cattie's guardian and searches her out. Once Catherine finds Cattie, their relationship evolves by sharing memories of Misty. To Cattie, Misty was a tough-minded single mom who provided well for her daughter. Catherine remembers their wild adolescence together: Catherine the rebellious bourgeois, Misty the white-trash girl with no future; while they took risks with drugs and sex, a serial killer remained on the loose nearby. Now, as Catherine eases into the role of her namesake's guardian, the same killer has resurfaced, and the news surrounding his banal evil creates the backdrop/counterpoint to the characters' growing understanding of their places in the world.
A small gem—more understated than Nelson's recent stories, but equally sharp and deeply moving."
–Kirkus Reviews (Starred Review)
"In her previous fiction, which includes numerous prize-winning stories, Nelson has always managed a clear-eyed and unshakable look at the craziness of the contemporary family. The family featured in Bound–her first novel in ten years–would seem the perfect subject. Oliver indulges in a string of adulteries, while his much younger wife Catherine, tries to push away the past. But the past comes knocking when a high school friend dies, leaving her daughter in Catherine's care. Nelson's prose looks to be as sleekly tough-minded as ever. "The dog had two impulses. One was to stay with the car, container of civilization, and the other was to climb through the ruined window into the wild." That's an impulse we all share, and I'm betting that Nelson will nail it. Essential for those serious about contemporary literature."
–Library Journal
"Nelson writes with wonderful grace and skill, each word carefully chosen, each passage carefully constructed.  This beautiful collection is another remarkable accomplishment for a writer often hailed as one of our  most talented storytellers."
–Publisher's Weekly (Starred Review for Nothing Right)