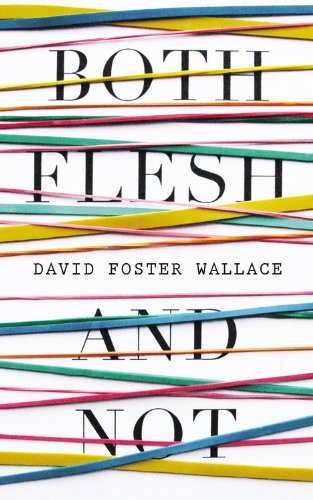 David Foster Wallace
Both Flesh and Not
(Little, Brown, October 2012)
Foreign rights have been sold to: Hamish Hamilton UK, Penguin Australia, Einaudi (Italy), Kiepenheuer & Witsch (Germany), and Random House Mondadori (Spain).
Both Flesh and Not gathers 15 essays never published in book form, including "Federer Both Flesh and Not," considered by many to be his nonfiction masterpiece; "The (As It Were) Seminal Importance of Terminator 2," which deftly dissects James Cameron's blockbuster; and "Fictional Futures and the Conspicuously Young," an examination of television's effect on a new generation of writers.
A sweeping, exhilarating collection of the author's most emotionally immediate work, Both Flesh and Notspans almost 20 years of Wallace's career and reminds us why A.O. Scott called him "The Best Mind of His Generation (New York Times).
"But at their best these essays remind us of Wallace's arsenal of talents: his restless, heat-seeking reportorial eye; his ability to convey the physical or emotional truth of things with a couple of flicks of the wrist; his capacity to make leaps, from the mundane to the metaphysical, with breathtaking velocity and ardor."
–The New York Times
"Both Flesh and Not is excellent in its entirety and just as quietly, unflinchingly soul-stirring as "The Nature of Fun."
–The Atlantic
"Wallace often reads like an unlikely combination of Dennis Miller and Jonathan Schell, and this ironic/sincere dymanic exemplifies the crucial questions at the very heart of his project: How can we express our real feelings in a language that, like a worn-out bank card, barely transmits because of abuse and over-use, and in a culture where every utterance has a derisive two-second reverb?"
–The Denver Post
"…the opening essay "Federer Both Flesh And Not" by itself is worth the price of admission. If to that one adds "The Nature of the Fun" (his essay on writing fiction) and "Deciderization 2007—A Special Report" (his introduction to The Best American Essays 2007), the collection already beats most competitors hands down. There is a rare pleasure in reading Wallace at his best."
–Publishers Weekly