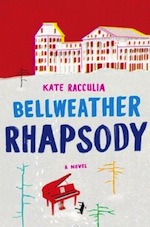 Kate Racculia
Bellweather Rhapsody
(Houghton Mifflin Harcourt, May 2014)
Fifteen years ago, a murder/suicide in room 712 rocked the grand old Bellweather Hotel and the young bridesmaid who witnessed it. Now hundreds of high school musicians, including quiet bassoonist Rabbit Hatmaker and his brassy diva twin, Alice, have gathered in its cavernous, crumbling halls for the annual Statewide festival; the grown-up bridesmaid has returned to face her demons; and a snowstorm is forecast that will trap everyone on the grounds. Then one of the orchestra's stars disappears—from room 712. Is it a prank, or has murder struck the Bellweather once again?
The search for answers entwines a hilariously eccentric cast of characters—conductors and caretakers, failures and stars, teenagers on the verge and adults trapped in memories. For everyone has come to the Bellweather with a secret, and everyone is haunted.
Full of knowing nods to the shivery pleasures of suspense and the transporting power of music, this is a wholly winning new novel from a writer lauded as "charming" (Los Angeles Times), "witty" (O, The Oprah Magazine), and "whimsical" (People).
"The Catskills, 1982. A young girl in a cranberry-wine bridesmaid dress witnesses a murder-suicide in room 712 of the old Hotel Bellweather. Fifteen years later that tender child, Minnie — now grown into a nervous, reclusive woman — returns to the scene of the crime along with hundreds of amped high school musicians participating in the annual Statewide festival. A snowstorm strands them in the hotel, a flautist prodigy disappears from dreaded 712, and Kate Racculia's delightfully odd and endearingly old-fashioned mystery Bellweather Rhapsody takes flight.
"Racculia, clearly a fan of Agatha Christie, stuffs the Bellweather with a fine cast of misfits and dreamers and foes. Chief among them are the fusty old concierge Hastings (a man aware that his beloved hotel is crumbling around him), the Hatmaker twins (quiet, in-the-closet bassoonist Rabbit and his thundering ham of a sister Alice), and imperious, awful Viola (the festival head and unconcerned mother of the missing flautist). Racculia is excellent when describing the roiling energy of unchaperoned, exhibitionist teenagers: "The Boys from Buffalo — or the BFB, as their matching homemade T-shirts proclaim — are already drunk when Alice and Rabbit reach room 1033: drunk and beatboxing, that deadliest of combinations. They are singing, harmonizing sloppily to 'Groove Is in the Heart."'
"But as much as this is a tale of youth and ambition — and, in the case of the students' messy adult mentors, regret and rage — it is at its core a humdinger of a mystery. Just what exactly is the curse of room 712? The pleasures of this great yarn are not just its full heart but its clever head. Poor Minnie has returned for some answers to the terrible mystery that has plagued her since childhood. She'll be left guessing until the very end, right along with the reader."
—A, Entertainment Weekly

"This rich brew of a novel from Racculia (This Must Be the Place) mixes together murder, music, and eccentric humor. In 1982, in Clinton's Kill, N.Y., a new bride murdered her husband, then killed herself, shortly after checking into Room 712 of the Bellweather Hotel. In 1997, high school drama queen Alice Hatmaker checks into the same room to perform at the statewide music festival, along with her talented twin brother, Rabbit. Alice's roommate is virtuoso flautist Jill Faccelli, whose overbearing mother, Viola Fabian, runs the festival. As a snow storm looms, Alice finds Jill hanged in one of the rooms. But when she returns with help, the body is missing, replaced by a note reading, "NOW SHE IS MINE." Only Minnie Graves, who witnessed the original murder-suicide when she was 10 and has returned to the hotel as a young woman to confront her demons, believes Alice's story. Together, she and Alice try to find out what happened to Jill. Racculia thus sets the stage for a novel of dueling wills, marked by textured characterization and an ebullient storytelling style."
—Publishers Weekly, STARRED REVIEW
"Twelve-year-old Minnie Graves is not happy. Not only is she forced to be a bridesmaid at her big sister's wedding, but her feet also hurt and her dress itches. But there's worse to come. Before the day is out, she will witness a murder-suicide. Flash forward 15 years to the anniversary of the fatal incident and Minnie returns to the scene of the crime, the gracious old Bellweather Hotel. It's a special weekend: the annual statewide music conference is being held there, which has brought teen twins Rabbit (real name Bert) and Alice Hatmaker to participate in the event. Also present is the eccentric Scottish conductor Fisher Brodie and the truly vile Viola Fabian, who is heading the conference. Before you can say "plot point," Viola's daughter, Jill, has vanished—after apparently committing suicide (it's complicated). Whodunit? Well, it could be any of the above or perhaps the twins' chaperone, Natalie Wilson, or even Harold Hastings, the hotel's elderly concierge. That most of the characters have secrets adds a layer of intrigue to a musical mystery that strikes nary a false note. Encore, encore."
—Booklist 
"Racculia (This Must Be the Place, 2010) delivers an experience worth rhapsodizing about as a group of teenagers and their adult chaperones descend upon a hotel in the Catskills for a statewide music festival …Racculia's droll wit and keen understanding of human nature propel a story that's rich in distinctive characters and wholly engaging. A gem."
—Kirkus, STARRED REVIEW
"Bellweather Rhapsody is funny and exuberant, twisty and captivating. Racculia tells the truth here, about art and life and the many trajectories that talent can take. She's also written the most resonant descriptions of music—how it really works in the head and the heart—that I've ever read. For its darkness and its glee, I loved this novel."
—Robin Sloan, author of Mr. Penumbra's 24-Hour Bookstore
"Witty and smartly moving, Kate Racculia's Bellweather Rhapsody offers a heart-thumping mystery
of music and murder."
—Matt Bell, author of In the House upon the Dirt between the Lake and the Woods
Read about Bellweather Rhapsody in School Library Journal's Best Adult Books for Teens
Read about Bellweather Rhapsody winning the 2014 Alex Award for adult books that appeal to teen audiences
Nicole Lamy, Match Book, of the New York Times Book Review, recommends Bellweather Rhapsody