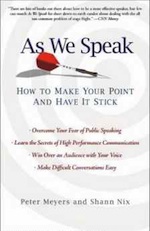 Peter Meyers & Shann Nix
As We Speak: How To Make Your Point and Have It Stick
(Atria, July 2011)
An internationally renowned communication expert presents a revolutionary guide to public speaking and becoming more effective and persuasive in all areas of life.  Peter Meyers—a former actor, theater director and the founder of the Stand & Deliver Consulting Group—has taught executives from global companies including Nestlé, Cisco Systems, ING, Black Rock, international diplomats and CEOs.  Meyers has honed a comprehensive approach for turning fear into strength when faced with speaking in public.  At the core of As We Speak lies a simple, three-step approach that addresses content, delivery, and state of mind.  Meyers and associate Shann Nix, an award-winning former journalist, take readers through every fundamental aspect of high-performance communication.  They offer advanced exercises to help readers gain true confidence and use their communication skills to create better relationships at work and at home. The knowledge Meyers and Nix impart makes it easier to have even the most difficult conversations with coworkers, bosses, and family.Peter Meyers is the founder of Stand & Deliver Consulting Group.  An award-winning actor, he currently teaches High Performance Communication® at IMD—the International Institute for Management Development in Lausanne, Switzerland—and as a guest lecturer at Stanford University. Shann Nix is a former award-winning journalist for the San Francisco Chronicle, a talk radio host for KGO Radio in San Francsico, and as a consultant to Stand & Deliver.
"There are lots of books out there about how to be a more effective speaker, but few can match As We Speak: How to Make Your Point and Have It Stick for sheer down-to-earth candor about dealing with the all too common problem of stage fright. Co-authors Peter Meyers and Shann Nix write, 'This book is not about learning to relax' (emphasis is theirs). Quoting comedian Jerry Lewis, they declare, 'If you're not nervous, you're either a liar or a fool, but you're not a professional.' Noting that Olympic athletes, Broadway stars, and other performers are anything but laid-back in the moments before they go on, Meyers and Nix add, 'You're never going to be relaxed in a high-stakes situation — nor should you be.' Whew. Takes some of the pressure off, doesn't it? Meyers, who has spent the past 25 years coaching Fortune 500 CEOs, political candidates, and other high-powered types through his Silicon Valley-based consulting firm Stand & Deliver, has a few favorite techniques for turning raw panic into positive energy. (Hint: Don't forget to breathe.)"
–Fortune Magazine