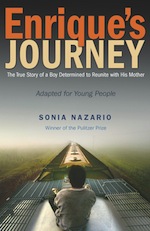 Sonia Nazario
Enrique's Journey: Adapted for Young People
(Delacorte, August 2013)
This is the true and heartbreaking story of sixteen-year-old Enrique, who sets off on a journey alone, braving unimaginable hardship and peril, to find his mother. Even years before eh set out, Enrique's mother had left her starving family in Honduras and illegally entered the United States to find work, hoping to make enough money to send home. With little more in his pocket than a slip of paper bearing his mother's phone number, Enrique embarks on a treacherous odyssey, often travelling by clinging to the sides and tops of freight trains. Even when confronted by bandits, thugs, and corrupt cops, he is determined to complete his journey, often buoyed by the kindness of strangers or simply by luck finding water or food. In the face of this hostile world, Enrique's love for his mother and his desire to be reunited with her endure and triumph. His is an inspiring and timeless story about the meaning of family and fortitude.
Written by Sonia Nazario, and based on both her Los Angeles Times series that won two Pulitzer Prizes and the adult book of the same name, Enrique's Journey puts a human face on the immigrants' struggles and takes us into the homes of America's newcomers. This vivid, searing work gives a voice to one boy who speaks for millions and will captivate all who read it.
"The 2003 Pulitzer Prize–winning author Nazario's critically acclaimed bookEnrique's Journey, a heart-wrenching account of one young man's journey to migrate illegally from Honduras to the United States to find the mother who left when he was 5, has been newly adapted for young people. Nazario's vividly descriptive narrative recreates the trek that teenage Enrique made from Honduras through Mexico on the tops of freight trains. This adaptation does not gloss over or omit the harrowing dangers—beatings, rape, maiming and murder—faced by migrants coming north from Central America. The material is updated to present current statistics about immigration, legal and illegal, and also addresses recent changes in the economic and political climates of the U.S., Mexico and Honduras, including the increased danger of gang violence related to drug trafficking in Mexico. The book will likely inspire reflection, discussion and debate about illegal immigration among its intended audience. But the facts and figures never overwhelm the human story. The epilogue allows readers who are moved by Enrique to follow the family's tragedies and triumphs since the book's original publication; the journey does not end upon reaching the United States. Provides a human face, both beautiful and scarred, for the undocumented—a must-read. (epilogue, afterword, notes) (Nonfiction. 14 & up)"
–Kirkus
"When Enrique was seven-years-old, his mother, a single parent faced with crippling economic difficulties in her native Honduras, migrated to the United States in hopes of securing a brighter future for her family. While her sacrifice provided important economic advantages, the separation eventually drove 17-year-old Enrique to embark on a four-month, 12,000 mile journey to reunite with her, traveling largely on the rooftops of trains into the United States as an undocumented migrant. In this updated version of Enrique's Journey (Random, 2006), adapted for young adult readers, Nazario offers a compelling account of a young man's brave efforts to find the parent he had not seen in 10 years, and that reunion's complex, unforeseen consequences. The journey tells the larger story of undocumented Latin American migrants in the United States. This adaptation has been tightened to focus more on Enrique's personal story, although some unflattering details (including drug use and problems with the law) have been slightly smoothed over. Nazario's straightforward, almost clipped, journalistic writing style largely serves the complex, sprawling story effectively. Backmatter includes an afterword offering substantial analysis of issues at play with undocumented migrants and notes detailing Nazario's research and writing process, including the re-creation of certain dialogue. Exploring important issues of immigration on both a personal and global scale, this title would be a valuable addition to young adult collections."
–School Library Journal, Ted McCoy, Oakland Public Library, CA