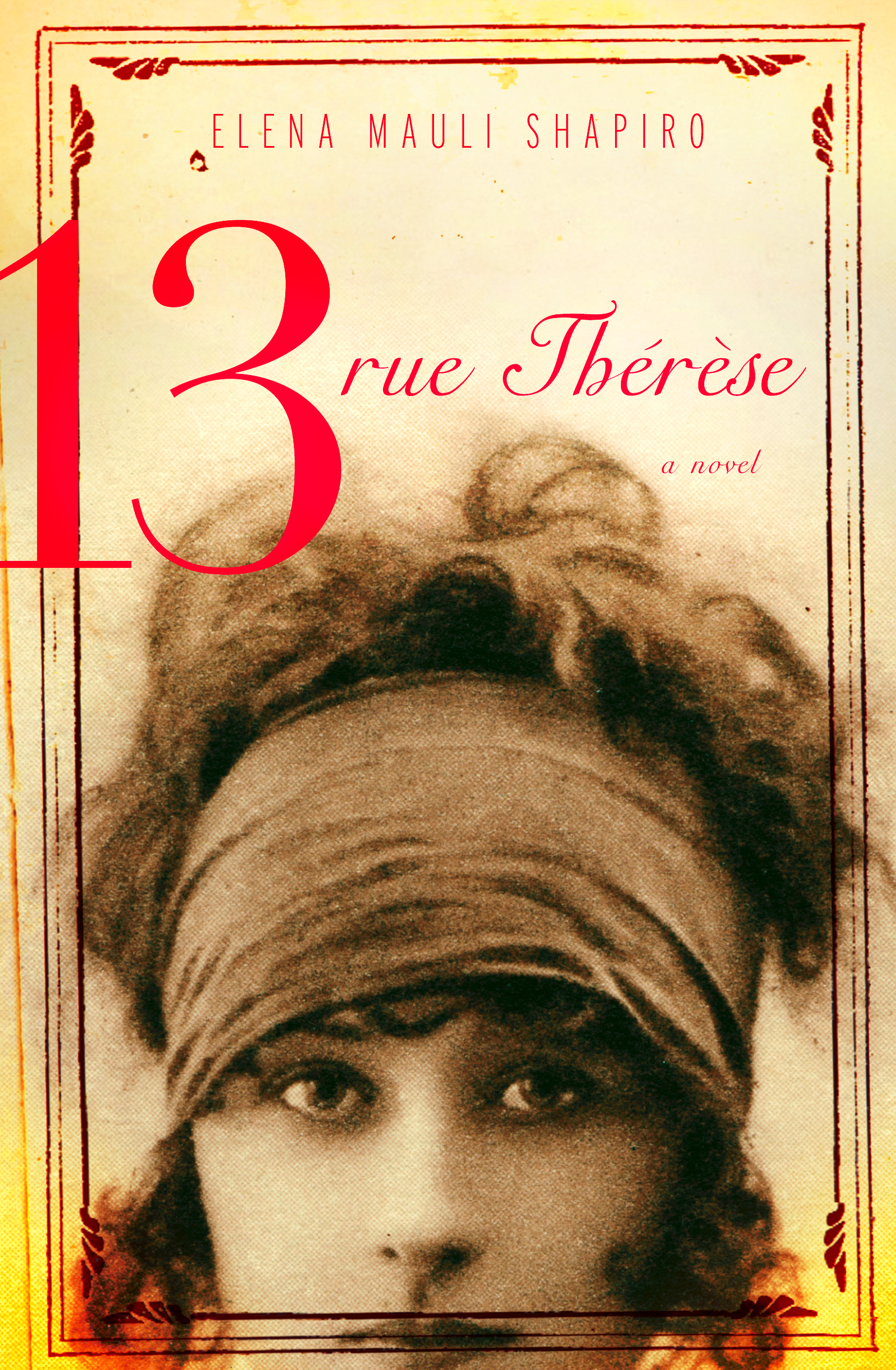 Elena Mauli Shapiro
13 Rue Thérèse
(Little, Brown, February 2011)
Foreign rights have been sold to: Headline UK, AST-Russia, Garzanti, Editions Michel Lafon, and Swiat Ksizki-Poland
American academic Trevor Stratton discovers a box full of artifacts from World War I as he settles into his new office in Paris. The pictures, letters, and objects in the box relate to the life of Louise Brunet, a feisty, charming Frenchwoman who lived through both World Wars.
"Shapiro's debut, an imaginative, sensual rendering of a Parisian woman's life, is told through the voice of Trevor Stratton, a young American scholar and translator working at a university in Paris. Stratton finds a box filled with objects dating back to WWI that once belonged to Louise Brunet, and his fascination with the box's contents–postcards, handkerchiefs, love letters, and other vintage keepsakes–leads him to imagine what Brunet's life in Paris might have been. What Stratton isn't aware of at first is that the box was left for him by Josianne, a secretary at the university, who is using the box and its contents to measure Stratton's romantic worthiness. As Stratton unfolds Brunet's story against the background of WWI battlefields and several inventions–a lover, Camille Victor, who dies in battle; a resulting unhappy marriage to husband Henri; and a passionate affair with a married neighbor, Xavier Langlais–he gradually comes to realize that Josianne is the source of his archival inspiration. The book is illustrated with photos of the actual objects owned by Shapiro, cleverly used as the novel's framing device."
–Publishers Weekly
As Trevor examines and documents the relics the box offers up, he begins to imagine the story of Louise Brunet's life: her love for a cousin who died in the war, her marriage to a man who works for her father, and her attraction to a neighbor in her building at 13 rue Thérèse. The more time he spends with the objects though, the truer his imaginings of Louise's life become, and the more he notices another alluring Frenchwoman: Josianne, his clerk, who planted the box in his office in the first place, and with whom he finds he is falling in love.
"A puzzle-novel that gave me the same fizzy satisfaction as completing a Sunday crossword. It will light up your brain and your heart."
–David Ebershoff, author of the bestseller The 19th Wife
13 Rue Thérèse is a wildly imaginative, multifaceted, confection of a novel. Like a master magician, Elena Mauli Shapiro gently introduces the beguiling Louise, and asks us to participate in solving her many mysteries. Louise's story, we are warned, has ensnared many great minds. By the novel's heady conclusion, we too have fallen captive to this most mischievous and provocative heroine."
–Maria Semple, author of This One is Mine
"When I think of works of fiction set in Paris, I immediately enter a mindset that is ruled by excessive imagination and visually concrete detail; I am reminded of Muriel Barbery's 'The Elegance of the Hedgehog' and Antoine de Saint-Exupéry's 'Le Petit Prince.' Also, Édith Piaf is singing somewhere in the background—as is the Eiffel Tower (my imagination tends to run loudly). Elena Mauli Shapiro's début novel, '13, Rue Thérèse,' combines all these gush-worthy elements. It is narrated by Trevor Stratton, an American scholar who stumbles upon a box of artifacts while working in Paris. Inside the box, he finds pictures, letters, pressed flowers and other charming keepsakes belonging to Louise Brunet, a Frenchwoman who lived through both World Wars. The French seem to have an ongoing obsession with enamoring mementos. (Remember that magnificent scene in Jean-Pierre Jeunet's 'Amélie' when Amélie pries open a loose tile in her bathroom and uncovers a stranger's hidden box of childhood gems? It is a perfectly warm scene to revisit during these wintry days.) The story of '13, Rue Thérèse' is told through Trevor's romantic and feral imagination, nurtured by vintage artifacts.
The novel, it turns out, was inspired by an actual box of keepsakes that the author found in an abandoned apartment. 'When I was a little girl growing up in Paris in the early eighties, an old woman who lived a few floors up from my apartment died alone. Her name was Louise Brunet,' Shapiro writes on her personal Web site. The salvaged box—containing First World War-era love letters, church gloves, dried flowers, a rosary, and other remembrances—is what Shapiro calls the 'sepulcher of Louise Brunet's heart.' In addition to the colored pictures eloquently revealed throughout the pages, readers are invited to explore the novel's Web siteusing embedded Q.R. (Quick Response) codes, where an entire landscape of twentieth-century French sights (there's an actual link to 13, Rue Thérèsee on Google Maps), sounds (listen to Maurice Chevalier sing "Paris, Je t'aime") and tastes (no actual tasting is involved, but there is a seemingly palatable boeuf bourguignon recipe from Julia Child) are waiting to be deciphered. Lauren Conrad may be the first 'author' to take advantage of Q.R.-code technology, but she certainly won't be the last.
I must admit that I enjoy the idea of a novel's intention being evolved through its pages as well as an interactive Web site; the entire process has an elegant weather of its own. One might call it a visual rendering through language, culture, and sensible surprises. I call it a brilliant and tactile method of marketing."
–The Book Bench, TheNewYorker.com
"Sifting through a deceased person's mementos, one can only try to piece together a life story. Much of what really happened is gone with the person it happened to. But in this captivating first novel by Bay Area author Elena Mauli Shapiro, who was born and raised in Paris, just such a box holds not only secrets but also the power to uncover them.
This intricate novel unspools the story of Louise Brunet, a Parisian woman haunted by grief and conflicted by repressed passion who faces a turning point in 1928. That story is teased out in nonlinear flashbacks recounted by a present-day American academic in Paris, whose clerk secretly leaves the box in his office.
The box's contents – postcards from her beloved in the trenches of World War I, photographs, coins, church gloves and more – induce fevers in the professor and even facilitate time travel. At times he hits a dead end when something is "not in the record."
Most compelling is Louise herself, who is trapped in a safe but tepid marriage, 'constantly under confinement, always wiggling out of her restraints when nobody is looking.' Sizzling sexual tension and some graphic sex spice up the text, as do images of the contents under examination. They were left behind by the real Louise Brunet, an old neighbor who died alone when the author was a child, and were placed in a box by the author's mother."
–San Francisco Chronicle